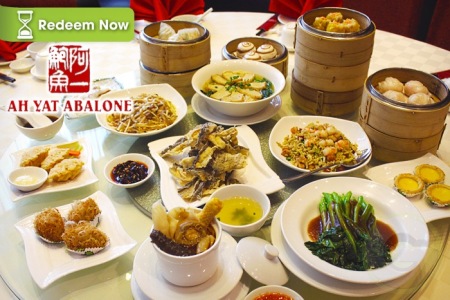 Bought a dim sum buffet lunch voucher from Groupon for Ah Yat Abalone Restaurant yesterday and made a reservation for a Saturday brunch. The voucher is valued at RM 636 and we got it for RM 208 (RM52 per person), this is apparently a 68% off deal. Since we have not visited any of the Ah Yat Abalone Restaurant before, so this is a good opportunity for us to try an abalone brunch with this promotional deal.
The deal comes with a double boiled whole abalone served with fish maw and sea cucumber as well as up to 40 dim sum dishes available to choose from.  The abalone is what attracted us to buy this voucher.
The space of the restaurant is cosy but we dont see many customers during that time, although the restaurant is located in the crowded KL city centre.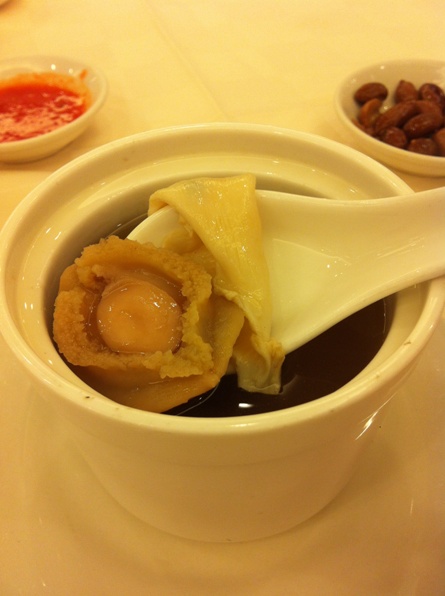 This is the essence of the deal, boiled abalone served with fish maw and sea cucumber, we find the taste average.
Some of the dim sum dishes that we ordered, out of 40 dishes, we only managed to try about 15 of them. The portion is rather big for each serve and we find the quality and the taste of the dim sum below average. We even tried a better one in other dim sum restaurant around Klang Valley.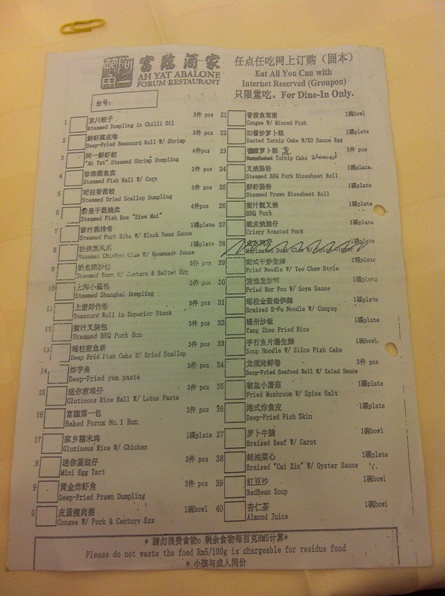 The dim sum menu.
Restaurant: Ah Yat Abalone Forum Restaurant
Address: 2nd Floor, Life Centre, No. 20, Jalan Sultan Ismail, 50250, Kuala Lumpur.
Rating: 4 out of 10
Visited on: 26th October 2013
Overall experience: Although this is considered as a good deal with 68% of discount offered from Groupon, but we dont find the real value of the deal except for the boiled abalone. We rated this visit at 4 out of 10 as we find the dim sum dishes below average. If you are looking for a high quality dim sum brunch, this is not for you. However, if you are looking to dine in one of the famous abalone restaurants in KL, this may worth a try.
Reviewed by: Jacqueline Tan