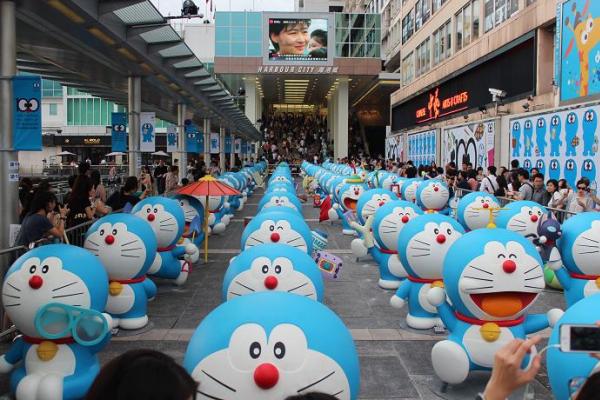 Previous Doraemon Exhibition in Hong Kong (photo credit: workingwithgrace)
One of the most famous cartoon icon Doraemon will be in Kuala Lumpur starting from middle of December 2013! It is also worth to mention that Malaysia is the first country in South East Asia to host Doraemon Exhibition.
The exhibition will last for 100 days from middle of December till March 2014. The exhibition will occupy at least 50,000 square feet of space and this is one of the largest events in Malaysia's history. There will be more than 100 units of Doraemon available for display and the exhibition will be split into numerous themes. Visitors can expect to learn more about the history of Doraemon, experience Doraemon street scene, Doreamon cafe and etc.
It is expected to attract more than 700,000 visitors to the Doraemon Exhibition in Kuala Lumpur. So, check back soon for the confirmed date and see the Doraemon in action up close!
Event: Doraemon Exhibition in Kuala Lumpur 2013 (100 Doraemon Secret Gadgets Expo 2013)
Organizer: Animation International(M)Sdn Bhd
Venue: Viva Expo Hall (Viva Home KL) at Jalan Loke Yew
Date: 14th December 2013 to 23rd March 2014
Ticketing: RM25 (adult), RM15 (child)
Recommended hotel: (within walking distance to Doraemon Expo)
Vivatel Kuala Lumpur (4 stars) – Click here for promotional rate
Doraemon Exhibition Tour Package: