If you happen to be in the beautiful island of Labuan, you must spend some time to visit the water villages. The two main water villages are Kampung Bebuloh and Kampung Patau-Patau. Inhabited mainly by Malays of Brunei-Kedayan descent, it is amazing to watch how life unfolds on the delightful stilted wooden houses that are surrounded by water in every direction. Laid back and relaxing, your main concern would be a deep appreciation of being almost in harmony with the life is made of – namely – water!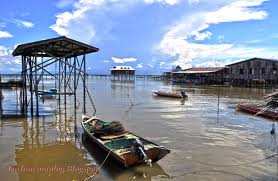 Let me tell you a bit about the houses built in Kampung Bebuloh. Many are fairly large, with a verandah at the front for family members to hurdle around and generally enjoy intimate conversations. The creative amongst the lot painstakingly decorate the spaces with many pots of bougainvillea and orchid – making brightly colored and eye-catching creation to feast upon. Most of the houses have a boat each – the boat being the village dwellers' (mostly fishermen) main mode of transportation, of course. Believe me – it is a challenge to walk from house to house via numerous crisscrossing (and often dangerous looking) planked walkways. It is through these queer and jumbled walkways that you can reach floating shops, mosques and other facilities – which make up a complete community – all literally above the surface of the water. If you happen to be one who is prone to being sea sick, take heed to the fact that although they look rickety, the houses and the walkways are remarkably steady and sturdy – thanks to the use of the 'belian' wood, renowned for its incredible strength and durability.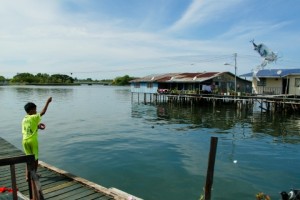 Kampung Patau-Patau was established in the 1930's. History has it that the Japanese exploded it during World War II, wiping out the whole area. However, it was painstakingly rebuilt from scratch by the villagers as soon as it was possible right after the war. The villagers relied on their memory and knowledge of old Brunei architecture they inherited from their forefathers. This is testimony of how they cling to their roots, and when you visit this place, you can still see traces of ancient Brunei-Kedayan culture and tradition in their way of life.
If you are lucky to make a trip here through a tour guide who can connect you with a local host family, you might have the chance to sample some traditional delicacies like the ambuyat (a sago dish served with a sour chilli dip). Local young mangoes, chilli and dried shrimps make up the ingredient of this delicious savory.