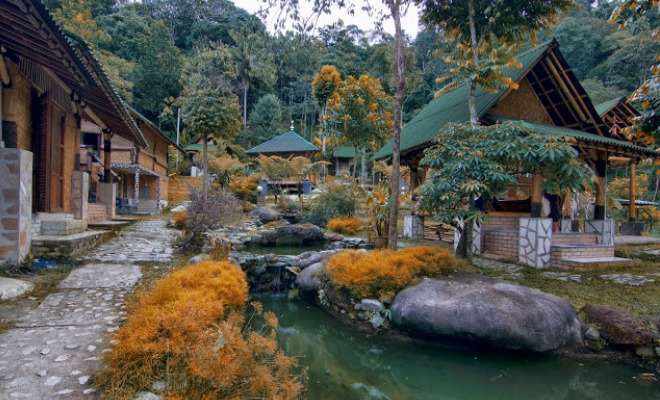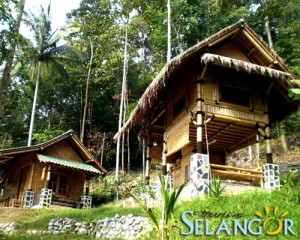 Ever got tired of looking at the same concrete-built house structures around and want a change of sight? Then the Rumah Buluh Betong Resort Living is the key to the solution! Rumah Buluh, if directly translated into the English language, it would be none other than Bamboo House, and that is exactly what the Rumah Buluh Betong Resort Living all about!
Constructed in the year of 2008, it was under the cooperation with Ade Sugiono from Jakarta and Undagi Jatnika Nagamiharja of Bogor. What makes this bamboo house even more exquisite is the fact that the bamboo used to built this structure was imported all the way from Indonesia, and has been treated to avoid the threats of any forms of insects and as well as fungal forms.
Visitors that are here for a night or so would realize that the bamboo is not the source of the structure of the house, but also a source for the interior! That is right; the majority of the furniture of this house is made mostly from bamboo. To accommodate the bamboo house is a Sundanese-inspired garden that would leave visitors at peace of mind.
One very interesting fact about this style of concept is that it is rare to find, even in Indonesia as it is one of a kind! Apart from that, this bamboo house takes into consideration the Islamic-style of Feng Shui, whereby certain areas of the premise have an element of 'centre of energy', 'kiblat' or even the 'wind flow'. Perhaps, with all these taken into consideration, it defines relaxation and lifts the stress from any visitors?
On a unrelated note, visitors that has accommodated here and wondered why is the name of the house Rumah Buluh Betong Resort Living, well, that is because the source of the house structure is simply made by a type of bamboo called 'buluh betong'!
Recommended Area to Stay in Selangor
Sunway
Gateway to theme park, shopping malls, entertainments and eateries.
Bandar Utama/Kota Damansara
From budget inns to mid range and luxury hotel, perfect for shoppers and leisure travelers.
Batu Caves
Range of budget hotels and provide easy access to Batu Caves, Bukit Tinggi and Genting Highlands.
Sepang / KLIA Airport
Perfect for visitors on transit.