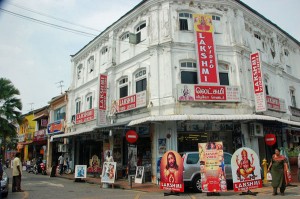 In George Town, Penang, positions the streets of Little India that will provide the atmosphere almost similar to the real country itself! This place is definitely anything else but subtle as it is accompanied by the loud hustle and bustle of noise, bright vibrant lights and enticing strong smells that would have any visitor feel very much alive.
Having four streets in Little India, namely the Queen Street, Market Street, China Street and King Street, visitors would have a good time spent as the 'feel' in the surroundings would leave a memorable time for them. Of course, visitors would be able to go through the markets as after the time pasts 9 am, shops would start to open and that's when people start buying their groceries, have their first meal of the day by the streets while reading the newspaper.
Do not worry about getting convenience goods as the ottu kedai there serves for a purpose. Ottu kedai, which is basically a shop-hole in a wall, sells almost anything, from cigarettes, newspapers, drinks, to the simplest of necessities like a toothbrush.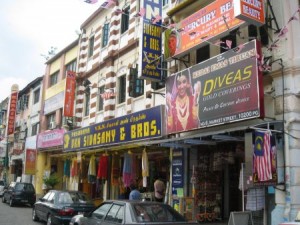 Malaysians are well-known to enjoy their food at all times, and Little India of Malaysia exists to not disappoint. In the Little India here, visitors can get the best-tasting samosa at any vendor stalls. Appetites would be enlarged as visitors walk past tiny shop restaurants only to take a whiff of the best Indian-style cooking, and that would be one of the best lunches they would have, alongside fresh coconut juice straight from the fruit itself. Of course, one of the drinks not to be missed would be the teh tarik, a famous Malaysian drink delicacy and is directly translated as 'pulled tea'.
Food gastronomy aside, Little India can provide everything else. Looking for Indian-infused entertainment? Look no further, as there are stores that sell Bollywood music and movies to suit the preferences of tourist. On an unrelated note, fresh flowers could be seen being sold as an offering to Gods at the temple located on Queen Street.
In Little India, when it is said that one could find anything here, it is indeed true. Visitors can find almost all kinds of goods here. For instance, tourists could get a traditional costume as a remembrance of Little India, or costume jewellery to be suited with it, or simply as a souvenir.
Indeed, Little India is a definitely a place not to be missed. Having so much of excitement in its everyday lifestyle, tourists would definitely find it very interesting. Of course, photographers and camera enthusiasts would find here to be a gem as the colours existing in this place is enough to give out some good shots!
Recommended Area to Stay in Penang:
Batu Ferringhi
Line up of beach front resorts from budget to luxury along Batu Ferringhi Beach.
Georgetown
For those looking for boutique style hotels and countless of cosy backpacker hostels.
Gurney Drive
A series of luxury hotels with fantastic sea view. Eateries and night entertainments are within walking distance.
Bayan Lepas / Airport
For business travelers.