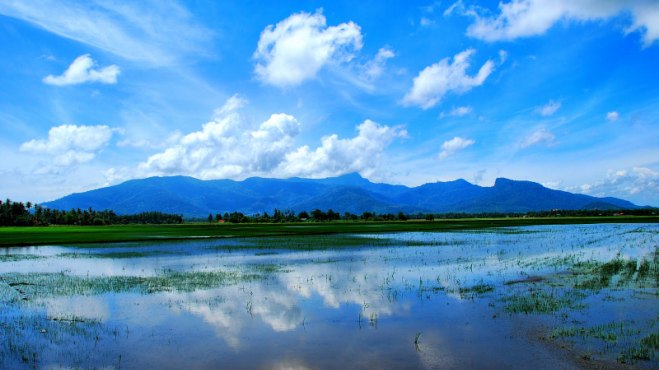 Gunung Jerai, or Mount Jerai in English, is the second highest peak in the state of Kedah. It has a historical significance as a navigation point for sailors during ancient Kedah.
Standing tall at 1217 metres, it oversees the vast paddy fields of Kedah as well as providing refreshing breeze at the top of the mountain. Visitors can choose to either drive up via its 13-kilometre main road or hike atop the mountain. Via the main road, visitors will pass Sungai Teroi Forest Recreational Park and Forestry Museum, which are worth a stop. Visitors can hike through a forest trail built at the park and learn about the various plans that have been tagged for easy referencing. Visit also the Forestry Museum to learn about different medicinal and healthcare properties of the plants / herbs. Close to the Peranginan Gunung Jerai Resort is the famed Alur Naga waterfall, offering a cooling dip for tired legs. Visitors who are more adventurous can try hiking up the mountain via the 20,000-step "Tangga Kenari". This will lead visitors through a trail of nature before reaching the top, where a beautiful panoramic view of Kedah awaits. On clear days, visitors can see as far as Penang island.
The cool and calming natural environment surround Gunung Jerai plus the spectacular view atop the mountain makes it one of the top destinations for visitors.
To get to Gunung Jerai, take the North-South Expressway towards the direction of Alor Setar. Make an exit at Gurun before taking the next exit about 5 kilometres later. The road will lead straight to Sungai Teroi Forest Recreational Park and Peranginan Gunung Jerai Resort.
Opening hour and entrance fee:
There is no entrance fee required to access Gunung Jerai.
Recommended Area to Stay in Kedah:
Pulau Langkawi
The best island destination for seeking true escape complemented by a range of activities.
Alor Setar
A gateway to all the city attractions with accommodation from budget to mid range available to choose from.