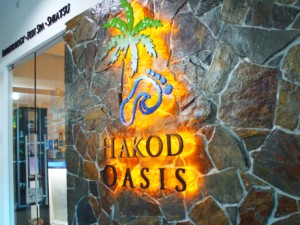 Hakod Oasis Spa, a must go place to rejuvenate your body. This spa offers many treatments that will rejuvenate and promote healing to the body. Hakod Oasis Spa being located at the capital city of Sabah, Kota kinabalu. This place being one of the renowned destinations for travellers and visitors has come about a good name for itself. Having a good, professional and efficient service, it gives the customer a good feel and enjoyable stay at Hakod Oasis Spa. Hakod Oasis has an interesting history to its name. Hakod is originated from a kadazandusun word that means 'leg'. Hence, it is rightly translated as 'heaven for the leg'. They do live up to that meaning as they offer top class treatment and professional service. The workers are friendly and go beyond their duty in really caring for the customer by living up to their motto of  'Customer First'.
There are many treatments offer by Hakod Oasis Spa. One of the treatments is foot reflexology treatment. The workers here at Hakod Oasis Spa are very familiar and professional in this treatment. Foot Reflexology treatment is the most common and most sought after treatment from the customers. It is a treatment of massaging and stroking the feet on the 'reflex points' around the feet. It is almost similar to back massage but just with the feet. This massage able to trigger relaxation as it loosens up the tight muscles and reduces muscle spasms. It increase the circulation of the body as well for a healthier body all round. It really acts as a catalyst in promoting relaxation and healing. This treatment takes about an hour or more.
Similarly to the treatment of foot reflexology, there is another treatment that Hakod Oasis Spa offers that is also related to the feet that is fish spa. Fish Spa treatment is a treatment that uses fishes to help cleanse the feet of dirt and dead skins. It is proven to be effective and efficient as it only takes up to an hour for the treatment to be done, you would have to dip your feet into a pool containing fishes of a specific type. The fishes will then nibble and eat off the dead skins and dirt from your feet and this would treat your feet into a much cleaner and healthier feet. This treatment is recommended for customers that usually play sports or are involve in vigorous outdoor activities because their feet would be much worn out and affected.
Apart for all the feet treatments, there is also call hot stone massage. It is a treatment that applies stones that are being heated to a specific temperature then place on the back of the patient. The stones are place on specific points on the back to reduce inflammations, muscle spasms and to loosen up the muscles. This will help to reduce back problems and relief back pain from the patient. Usually, this treatment is for people that suffer from back pain, back aches or arthritis. The heat that is being transferred from the stones to the back will ease the pain and promote healing for the back muscles.
In Hakod Oasis Spa, all these treatments are offered to the customer with top class services provided. This wide range of treatments to choose from really pampers the customers. This gives Hakod Oasis Spa an attraction spot for variety of people with different problems and different needs altogether. It is a place of rejuvenation for all ages of people. Do drop by at Hakod Oasis Spa as you would enjoy any of the rejuvenating treatments that they offers. Be sure to prepare to giggle and burst out in laughter as some treatments do tickle your funny bone!
Recommended Area to Stay in Sabah:
Kota Kinabalu
From city's heritage exploration to islands escape, accommodation option in KK is countless.
Mount Kinabalu
For visitors looking to discover mother nature and access to the highest mountain in South East Asia.
Semporna
Gateway to the islands paradise (Mabul Island, Sipadan Island, Kapalai Island and more!).