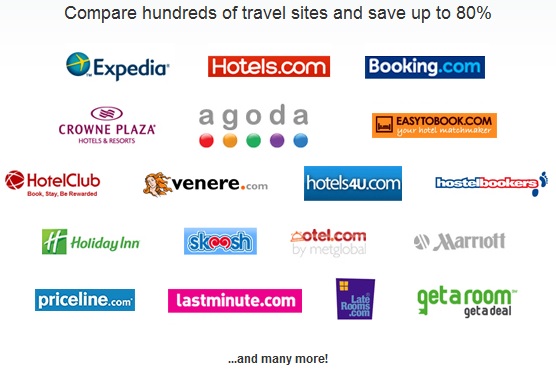 There are plenty of online travel sites and hotels booking sites available nowadays, every each of the site is providing different room rate at different travel date, it is a daunting task to look for the cheapest deal from these sites by browsing each of the website.
But no worry, HolidayGoGoGo.com is here to serve you better, our job is to help you to look for the best hotel deals from agoda, booking.com, lateroom.com, Hotelclub, Getaroom, Expedia and many more so that you can save time and save money! Follow the steps below to get started:
1. Click on this link (http://hotels.holidaygogogo.com/) and a new browser tab will be prompted, do not close this page as you will need the following steps to get you through.
2. Enter your travel destination, travel date and choose the number of guest to stay in the hotel.
3. By now, the comparison engine is running and a list of available hotels is generated based on the travel information you provided. In this list of hotels, you will see price and some details about the hotel.
In the example below, i am searching for hotels near to "Petronas Tower", and there are a total of 29 hotels available near to this landmark. Now, click on the desired hotel and another list of hotels with room rate will be prompted.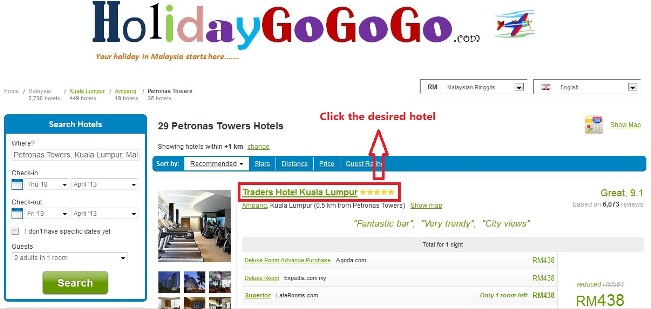 4. There are rooms with numerous features and the most important is to look for those deal with cheapest rate, however, you may want to look for deal with "FREE CANCELLATION" to secure your booking. Once you have located this deal, click on the "GO" button and you will be directed to the hotel booking site for further details and booking confirmation.