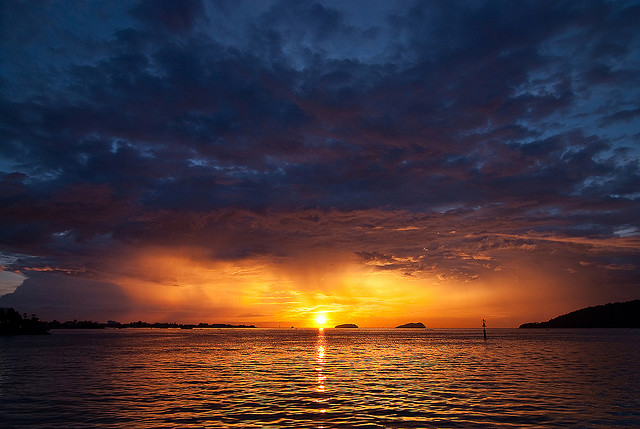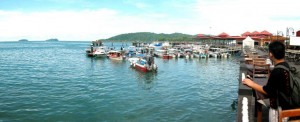 Being able to discover unique landmarks in a country is always a thrilling experience. If you are to visit Sabah for your upcoming vacation, be sure to check out the Jesselton Point Waterfront in Kota Kinabalu to accumulate more meaningful memories for your vacation. Being one of Kota Kinabalu's main attractions, the Jesselton Point Waterfront has always been a must-go for many tourists visiting the state. Upon reaching the waterfront, you will definitely be exposed to a totally new feel and atmosphere with the fact that the place was built with its design referencing many historical traditional designs which one may only find it common hundreds of years ago.
Here in the Jesselton Point Waterfront, you will also be exposed to a taste of some foreign elements such as the vintage red English phone booths. This signifies the memories encountered by the local people in the past when foreigners came to the country and tried to live side-by-side with the local people. In order to preserve these precious memories, the historical elements – both local and foreign – were remained and protected by the local people in the waterfront up till today.
Visiting the Jesselton Point Waterfront will also give you a feeling as if you had just been transported to a town in the late 80s or 90s. Here, you can use this chance to explore more of the place by having a casual meal in one of the restaurants, as well as touring around the place while discovering more traditional and cultural elements embedded in the waterfront. You can also buy some handmade products made by the local people with their traditional skills and techniques through the different handicraft stalls and food and beverage stalls in the waterfront.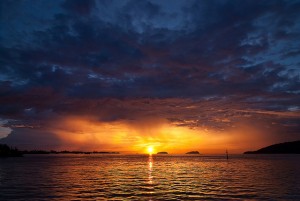 Apart from that, if you are lucky, you might also obtain the chance to capture a few glances of the local functions being conducted in the Jesselton Point Waterfront. Due to the uniqueness of the waterfront containing both foreign and local elements in its building designs and decorations, the waterfront is a place many would book for different social functions such as weddings, concerts, and a lot more. Being able to witness these social functions for yourself will definitely help you greatly in enhancing your knowledge about the local culture and tradition in the same time.
Another activity you must not meet when you visit the Jesselton Point Waterfront is to see the breathtaking sunset. The waterfront will definitely serves as one of the best place for more bonding sessions between you and your love ones.
Recommended Area to Stay in Sabah:
Kota Kinabalu
From city's heritage exploration to islands escape, accommodation option in KK is countless.
Mount Kinabalu
For visitors looking to discover mother nature and access to the highest mountain in South East Asia.
Semporna
Gateway to the islands paradise (Mabul Island, Sipadan Island, Kapalai Island and more!).