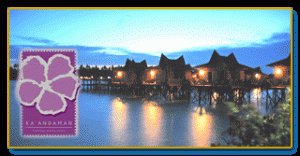 To dream being pampered like the elites and to relax in a place overlooking the scenic views of Mabul Island, Ka'andaman Spa situated in Mabul Water Bungalows aspires to offer that level of luxurious hospitality to their guests.
Roughly less than an hour from Semporna by boat and built on wooden stilts over the clear blue waters, Ka'andaman Spa Mabul offers visitors a chance to lay eyes on the wide seascape of this beautiful white-sanded island while they enjoy their spa treatments. Also, if timely, visitors can catch a quick sight of aquatic creatures beneath them.
To ensure that the fine needs of the guests are fulfilled, helpful spa assistants are present to lend a hand. Professionally-trained therapists are hired to ensure that these guests receive top treatment in the right outward appearance as the spa intends to grant guests a memorable island experience.
Visitors of Ka'andaman Spa would be spoiled for choices as their variety of spa packages range from a simple half-hour foot massage, such as the Beach Foot Massage, to an extensive full head-to-foot package, namely the Sultan Package. While going through the spa treatments, visitors can hear the natural sounds of slight splashing waves to soothe their minds.
Subsequent to being under the sun and in sea water, guests may want to 'mandi susu'; an add-on treatment of a soothing milk bath to rejuvenate their skin after a long day at the beach.
For individuals that intend to spend most of their day in search of a peaceful mind, body and soul at the spa, they would be recommended the Sultan Package. This three-hour spa package consists of a herbal foot bath, a traditional 'kudat' coconut scrub, 'mandi susu', then an aroma massage, followed by a Borneo facial and lastly, a foot reflexology, accompanied by a light snack.
To add to its advantage, the spa puts to use local natural ingredients for its treatments. Ka'andaman Spa provides other add-on treatments such as the Tambunan Ginger Treatment for stress relief, Coconut Body Scrub for relaxation, as well as a Cucumber Cooling Mask session.
Apart from its natural ingredients, Ka'andaman Spa includes its signature oils used for the particular spa treatments, such as Land Below The Wind, Kinabalu Spirit, and Borneo Moonlight; each with its own specific purpose. For instance, the Kinabalu Spirit oil improves awareness and clear thinking, suitable for individuals that are tensed.
In a nutshell, Ka'andaman is the best setting for a person as a getaway to invigorate inner senses as well as a touch to the Asian way of natural healing.