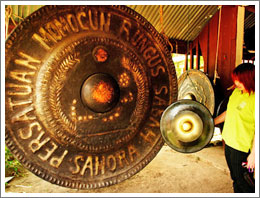 Malaysia has shown great effort in preserving the cultures and traditions of each and every race and religion in the Malaysian society. For the Malaysians, the cultures and traditions that are being passed down to the future generations are important elements that are able to reflect the root of the local people in the best way. There are many elements related to the cultures and traditions one can explore when one visits Malaysia. In Sabah, the local people are very passionate in protecting their cultures and traditions to the extent that you will be able to see the shadows of these precious traditions everywhere you go. However, if you intend to know more about them, you can start off your first step by visiting the Kampung Sumangkap Gong Factory located in Kudat.
The Kampung Sumangkap Gong Factory is one of the most well-known gong making factory in the state. For the local people, especially the Rungus tribe, the gong is an important musical instrument that often being used in important and luxurious occasions like weddings and the local festivals. In the Kampung Sumangkap Gong Factory, you will be able to witness different types of gongs, all varied in sizes and designs. The unique designs of the gongs are definitely suitable to serve as a special decoration for your room, or even your living room. Upon visiting the Kampung Sumangkap Gong Factory, you will also be able to purchase some of the handmade gongs as a souvenir or as a remembrance to your trip to Sabah.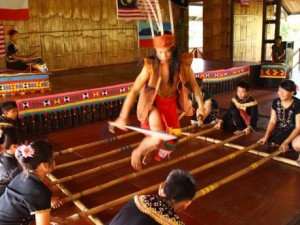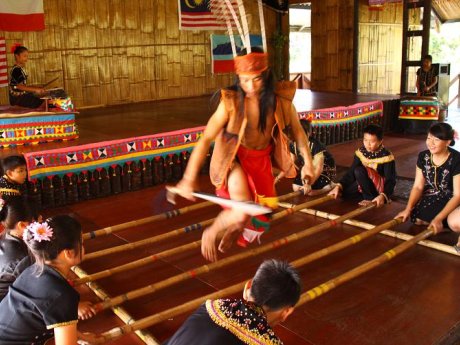 Apart from that, if you are going to visit the Kampung Sumangkap Gong Factory with a large group or friends or family, you will also obtain the precious opportunity to witness the cultural performance presented to you by the villagers residing in the village. In the same time, you can also tour around the Kampung Sumangkap Gong Factory, exploring the unique and traditional designs used in constructing the building and also, you can learn more about the whole process of gong making from the experts and professionals villagers who had been crafting uncountable gongs from their bare hands in the village with the passion to preserve their local culture and tradition. This is also a great chance for you to understand more of the daily lifestyles of the villagers in the village by observing the way they do things or by talking to them.
Recommended Area to Stay in Sabah:
Kota Kinabalu
From city's heritage exploration to islands escape, accommodation option in KK is countless.
Mount Kinabalu
For visitors looking to discover mother nature and access to the highest mountain in South East Asia.
Semporna
Gateway to the islands paradise (Mabul Island, Sipadan Island, Kapalai Island and more!).