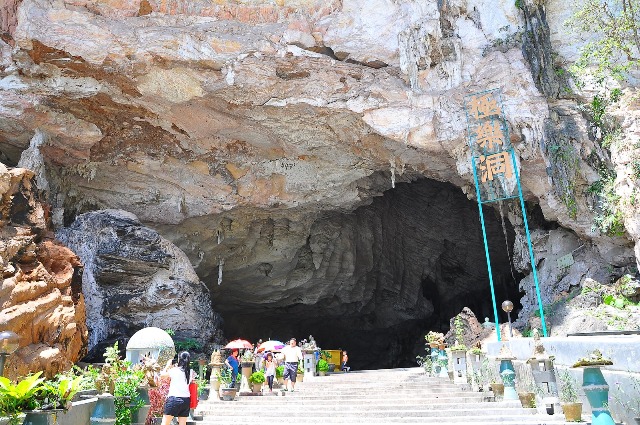 Perak is a great state to visit. There are many sights and interesting place to visit that will definitely make you holiday in Malaysia a memorable one.
Perak is known for its magnificent mountain ranges, caves and heritage sites. One such destination that has nature at its best as well as heritage at its finest is the Kek Lok Tong Temple. Nestled inside a limestone hill, the large temple site began to be used as a site of worship for Buddhist devotees back in the early 1900s. In 1960, the cave was used to mine iron by a local Chinese man. The operation saw the entrance of the cave being enlarge to allow easy transportation to and from the factory and the cave.
 The award winning landscape garden features a jogging path circling two lakes and one of the longest reflexology footpaths in Ipoh. Reflexology is based on the principle that there are reflexes in the feet that relate to every organ, gland, and system in the body. Walking on the path provides acupressure massage and relief.
The temple is an interesting structure that was built later on due to the interesting shape of the cave. The cave is naturally shaped like a carp. The temple grounds are home to a beautifully-landscaped garden. There are beautiful flowers and flower pots here and the garden has been carefully landscaped to calm the soul. This garden has won awards that feature it as a well-landscaped garden and you will definitely enjoy a leisurely stroll down the pathways here. The garden also has a jogging and cycling path which circles two small lakes. You will find locals come here in the evenings to do their exercise. Also, the longest reflexology path in Ipoh town is right here and is worth giving it a try because it is known to relief pain and encourage blood circulation throughout the body.
Once you have thoroughly explored the outside of the cave, you should head inside to explore the wonders and beauty of such a magnificent cave. You will be greeted by a flight of stairs that will lead you downwards to the entrance of the cave. This is supposed to symbolize the throat of the creature. There is another entrance at the rear that really looks like the belly of a fish. The cave is definitely a must-explore place! The central altar has a few statues here and other interesting figurines that represent the Chinese pantheon. The stalactites and stalagmites here make for a very interesting geological encounter.
Recommended Area to Stay in Perak:
Pulau Pangkor
The perfect place for seeking true island escape, with just a short ferry ride from Lumut.
Ipoh City
A gateway to all the city attractions with diversified of accommodation options available to choose from.
Taiping
A heritage town rich in tin mining history and serene atmosphere.