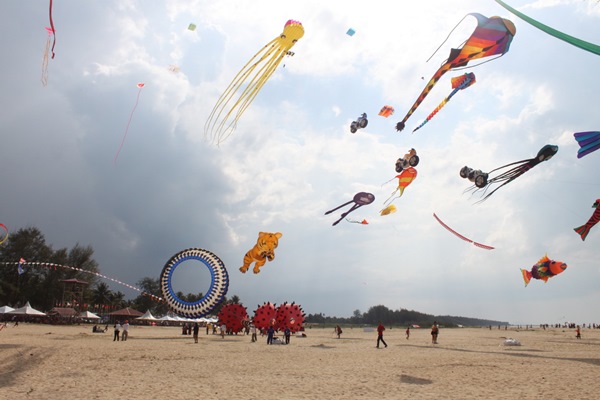 Kelantan's skyline which is decorated with colorful kites (Photo credit: theblissfulabode.blogspot.com)
Prepare to be dazzled by a sky-full of colorful kites at the Kelantan International Kite Fest! This year is the 31st edition of the festival as it had gained overwhelming response from the public since it was first held in 1982. Top kite fliers from all around the world, including countries such as Singapore, Cambodia, Indonesia, Germany, Sweden, Belgium, Brunei, France, Italy, Australia, New Zealand, Philippines, Thailand, USA, Nepal, China, Japan and India will get together and show off their skills against each other.
With all the various activities and competitions lined-up, the whole family will be entertained in this festival. Make sure to check out the highlights of the event which include beach soccer competitions, kite-making contest and silat demonstrations.
Event: Kelantan International Kite Fest
Venue: Pantai Geting Tumpat, Kelantan.
Date:  28 – 31 May 2014