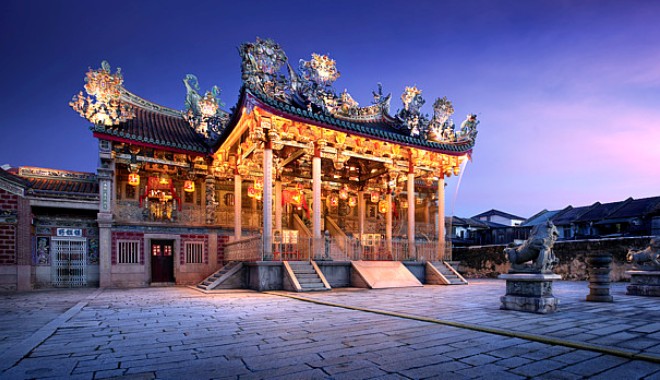 Photo credit (Chi Khong)
The Khoo Kongsi is a joint-complex consisting of an ancestral hall, named Leong San Tong, rows of shop houses, a meeting hall, offices, a stage and 62 units of terrace houses. The complex was established by the Khoo clansmen originating specifically from Sin Kang Village in Fujian, China during the early 18th and 19th centuries.
There are several buildings and structures constructed with intricate designs that are certainly an eye opener here. Visitors to the Khoo Kongsi will first be awed by the grandeur of Leong San Tong, the most important building within the complex. The building was constructed based on integration between designs of Anglo-Malay house and Southern Fujian temple. Visit the administrative building nearby, which was built based on British colonial design with influences of Chinese architecture. Facing the Leong San Tong is an opera stage, built to cater to opera and performances during festivities and prayers as an act of tribute. Visitors to Khoo Kongsi during Chinese festivities may come across performances here during the night. Around the complex are rows of terrace and shop houses that have been well-preserved since before World War II. Taking a stroll the narrow lanes within the complexes will reveal to visitors the pre-war houses. The structures will not be the only factor that draws visitors here. Visitors will also be enlightened on the history of the Khoo clansmen, the chronology, the hows and whys of their journey from Fujian to Penang, the stories of life in Penang and the development of this complex into a well-preserved Penang heritage.
Khoo Kongsi carries so much history and cultural trail from across the South China Sea, it is definitely one of the must visit destinations in Georgetown of Penang.
Khoo Kongsi is located at Cannon Square and accessible via 3 main entrances at Cannon Street, Armenian Street and Beach Street.
Opening hour and entrance fee:
Khoo Kongsi is opened daily from 9am to 5pm, with possible extensions to closing time during events and festivities.