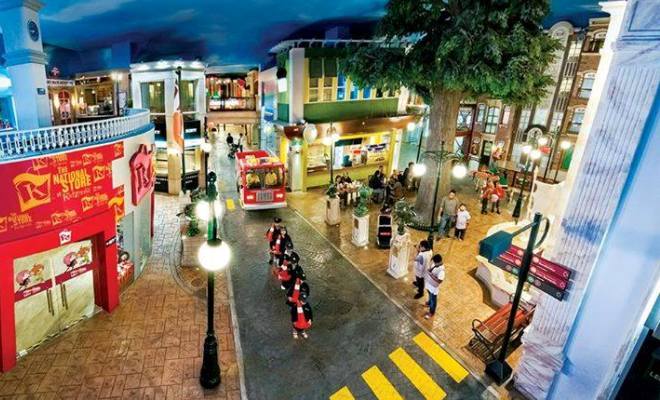 Kidzania is a place where children can participate in adulthood via many interactive role-plays. Kidzania was initially set up in Mexico in 1999, and the innovative idea slowly spread across 15 countries. In Malaysia, Kidzania caters up to 1,700 children at any one time.
Kidzania is modeled after the actual city in which it resides with children-sized replica, and includes real features such as retail outlets, malls, cinemas, factories, buildings, vehicles and streets. Here, children between 4 and 16 participate in adulthood as they interact just as adults do in daily life. They take up roles such as dentists, surgeons, firefighters, newscasters, lawyers, judges and participate in as many as 90 different types of activities in 60 over establishments. This is where children learn while at play, as they pick up life-skills such as team-work and cooperation, tolerance and discipline, all the time being exposed to new behavioral patterns from other children and challenges from their roles. Children will also learn about how things are made, where certain products come from and how the real world works. There is even a mock bank and currency, with which children can earn "money" and learn to juggle a balanced spending via expenditure and saving.
Kidzania is a realistic yet fun place for children to be learning about the real world at the same time having fun.
How to get there
Kidzania is located at The Curve, Mutiara Damansara of Selangor. Visitors can easily get there with public buses or taxis. For visitors who prefer self drive, there are parking lots available in the same building or the nearby shopping malls such as Ikea, Ikano Power Centre or Tesco Hypermarket.
Opening hour and entrance fee
Kidzania opens from 10am to 5pm on weekdays and Sunday, while on Saturday and public holidays, it is divided into two sessions; first session from 10am to 3pm and second session from 4pm to 9pm.
Entry fee for Kidzania is listed as below:
Baby (0-1 year old) – free of charge
Toddler (2-3 years old) – RM35
Kid (4-17 years old) – RM60 (Malaysian)
Kid (4-17 years old) – RM75 (Non Malaysian)
Adult (18-59 years old) – RM35 (Malaysian)
Adult (18-59 years old) – RM50 (Non Malaysian)
Senior (60+) – RM30
Recommended Area to Stay in Selangor
Sunway
Gateway to theme park, shopping malls, entertainments and eateries.
Bandar Utama/Kota Damansara
From budget inns to mid range and luxury hotel, perfect for shoppers and leisure travelers.
Batu Caves
Range of budget hotels and provide easy access to Batu Caves, Bukit Tinggi and Genting Highlands.
Sepang / KLIA Airport
Perfect for visitors on transit.