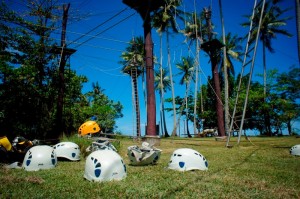 There are always endless adventurous moments which you can gain from visiting the state of Sabah in Malaysia. Apart from the precious nature beauty – the flora and fauna – in the state which will help you greatly in enhancing your knowledge on the state's well-preserved treasure, you will also find various meaningful historical landmarks which are embedded with stories that are often great remembrance for the local people. However, you must also not miss out the exciting moments which you can find in Sabah, and this leads to the must for you to visit the KK Adventure Park in Papar to obtain one of those thrilling memories you will gain in the state of Sabah.
In the KK Adventure Park, you will find various activities that will definitely fulfill your cravings in experiencing something exciting and unique in another country. The activities offered to your by the park will definitely keep your adrenaline pumping throughout the whole time you are going to spend in the park. Here, you will find all kinds of thrilling activities all accumulated in one location waiting for you to try them out and to obtain yet another meaningful memory in the park.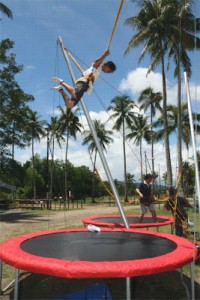 Some of the activities offered to you in the KK Adventure Park include bungee jumping, high ropes challenges, kayaking, flying fox, treasure hunting, wall climbing, and a lot more. The fact that you are being exposed to so many different thrilling activities in the park will definitely make you feel as if the time you are going to spend in the park is never enough. If you are looking for extreme activities in the park, you can try out the bungee trampolines, and also the flying fox which these two activities will provide you with a whole new experience of trying extreme activities in a foreign country.
However, if you are not too fond of activities which are too extreme, there are also various other activities which you can try out in the KK Adventure Park. For instance, you can experience the giant chess, which redefines the game of chess for you in a larger scale. If you are to bring your kids along with you, you can also let them try out the treasure hunt in the park for them to experience a new kind of treasure hunt in a foreign country and in the same time, helping them to appreciate the Mother Nature more. Apart from that, you can also try out moderate activities such as coconut tree climbing and wall climbing, which will also help you to get a better view of the entire park while fulfilling your longing to do something more thrilling in your visit to Sabah.
Recommended Area to Stay in Sabah:
Kota Kinabalu
From city's heritage exploration to islands escape, accommodation option in KK is countless.
Mount Kinabalu
For visitors looking to discover mother nature and access to the highest mountain in South East Asia.
Semporna
Gateway to the islands paradise (Mabul Island, Sipadan Island, Kapalai Island and more!).