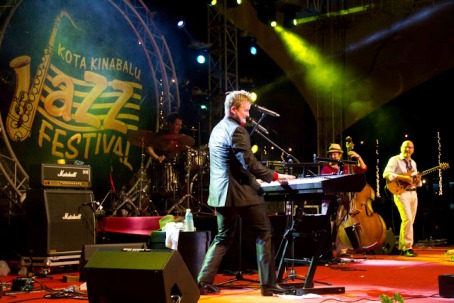 Kota Kinabalu Jazz Festival (KKJF) is a yearly fund raising jazz musical event organized by the Society of Performing Arts Kota Kinabalu Sabah (SPArKS) and Rotary Club of Kota Kinabalu (RCKK). Staged in the scenic Kota Kinabalu's Nature Resort City in Sabah, this 7th jazz festival brings all the best international musical talents together and showcases a fascinating performance for its audience.
This musical festival was originated in 2007 with a goal to promote Kota Kinabalu of Sabah in a global musical scene. The first event was held at the Jesselton Point, a well-known waterfront landmark in Sabah. By its 2nd edition in 2008, KK Jazz Festival successfully attracted some of the most talented international artists such as Denise Maninfield from US and Grey Lyons from UK. Since 2009 the event extended into a two nights event and successfully attracted more than 4,000 visitors during the event.
Other than to promote the tourism of Kota Kinabalu and Sabah, the event has also successfully gained public alertness in the local community towards such trendy musical event. With a range of pre fringe workshop and festival, the event is a perfect stage for interaction between the international artists and the local music buffs. KK Jazz Festival is now an iconic event in the yearly event calendar of Sabah and is also a major element of the Kota Kinabalu Arts Festival.
Event: KK Jazz Festival 2014
Venue: Sutera Harbour Resort, Kota Kinabalu, Sabah, Malaysia.
Date: 13th June to 14th June 2014
Ticketing: To be confirmed
Recommended Hotels in Kota Kinabalu, Sabah


The Pacific Sutera Hotel (5 stars)

Check rate

The Magellan Sutera Hotel (5 stars)

Check rate

Hyatt Regency Kinabalu Hotel (5 stars)

Check rate

Horizon Hotel Kota Kinabalu (4 stars)

Check rate

Gaya Centre Hotel (3 stars)

Check rate

The Klagan Hotel (3 stars)

Check rate