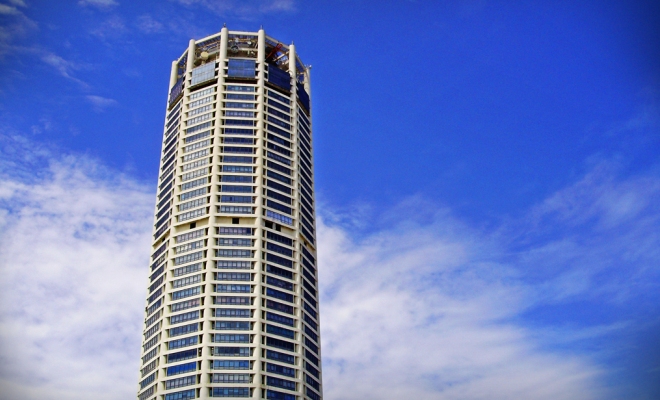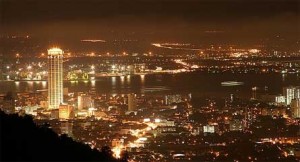 More commonly labelled with the acronym of KOMTAR, this high up building is one of the Penang's famous landmarks and a must-visit for all tourists. It is housed as a multi-purpose complex with as many as 65 storeys and heighted at 231.7 meters! In terms of its multi-purpose advantage, KOMTAR comprises of retail shops, Penang government admin offices as well as transportation hubs.
Similarly, there is a KOMTAR in Johor Bahru of a smaller scale that was also built during the same period of time, but with only 25 storeys. There are many changing phases of KOMTAR Penang, but as of today, the current ones that are still operating would be Shangri-La hotel, Prangin Mall, Pacific, and ICT Digital Mall.
When it comes to shopping, KOMTAR is definitely in the list of best locations to do so. Pacific Hypermarket and Departmental Store is 4-storied and air-conditioned, which makes it an advantage as Malaysia's hot and humid weather is the only reason the locals wish to stay in most of the time! In this mall, it is no regular saying that everything is under one roof, because literally, everything is under one roof. Visitors could find anything, from men's clothes to winter clothing!
Thought about spending some meal time at KOMTAR? Well, KOMTAR Walk is the answer. Developed by Pacific, this 155 meter-stretch is a food and beverage hub ideal for a meal break time, and there are so many of food and beverage choices that it would just make the visitors wish they had stomach space twice as much!
ICT Digital Mall was part of KOMTAR allows tech-fans to spend the day trying out the latest technology and shop for common brands like HP, Samsung and numerous more. Not only that, there are always great deals and discounts to watch out for!
Well, for the ones that are in Penang visiting KOMTAR but does not fancy shopping, no fear, because there is a cineplex in Prangin Mall for the movie buffs that features the latest screenings and lets visitors kill time as an alternative entertainment. Apart from that, there is also a karaoke lounge for visitors that want to sing their lungs out!
Visitors that drive here would not have to fret as there is ample parking space. Even if tourists are to get here by means of public transportation, numerous buses would drop by the KOMTAR bus terminal which leaves visitors at its easiest convenience!
Recommended Area to Stay in Penang:
Batu Ferringhi
Line up of beach front resorts from budget to luxury along Batu Ferringhi Beach.
Georgetown
For those looking for boutique style hotels and countless of cosy backpacker hostels.
Gurney Drive
A series of luxury hotels with fantastic sea view. Eateries and night entertainments are within walking distance.
Bayan Lepas / Airport
For business travelers.