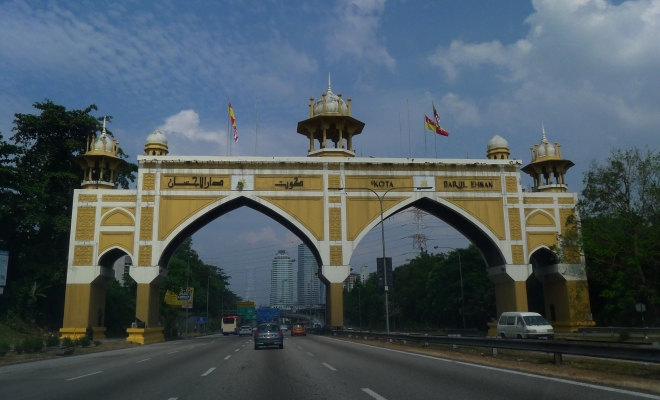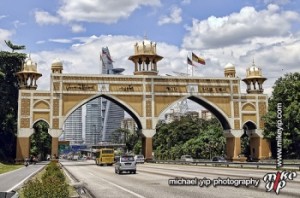 In Malaysia, there are countless unique attractions that one can visit. If you are interested with the busy lifestyle of the Malaysians, both the states of Selangor and Kuala Lumpur are definitely worth the visit. There are many landmarks in Selangor that can help you in identifying the state. One of the unique landmarks you must not miss is the Kota Ehsan Gateway Arch.
The Kota Ehsan Gateway Arch is a very noticeable landmark, separating the state of Selangor and the state of Kuala Lumpur. It can be seen on one of the busiest highway of Malaysia – the Federal Highway. In other words, if you plan to visit both Selangor and Kuala Lumpur, the Kota Ehsan Gateway Arch is definitely one place you will never miss. Apart from that, the Kota Ehsan Gateway Arch is also a useful guide for both the local people in Malaysia as well as the foreigners from other country in guiding them to move towards the right state or district they want to visit.
Building 

Architecture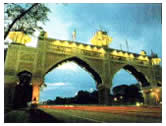 Furthermore, one of the most distinctive features of the Kota Ehsan Gateway Arch is the fact that the arch is the largest arch in Malaysia. Thus, this fact makes the arch one of the most important reasons for you to visit when you are stopping in Selangor .In the same time, you will also obtain the chance to witness for yourself the creative building architecture of the Kota Ehsan Gateway Arch, which is inspired by the Moorish influence, clearly observed from the cannons located at both sides of the arch. are visiting the arch at night, you will even gain the opportunity to observe the magnificent subtle light effects of the arch, resulting in a very amusing surrounding for you to take picture.
Knowledge
Upon visiting the Kota Ehsan Gateway Arch, you will also be able to gain useful knowledge about the background story behind the magnificent landmark of Selangor. The story behind this arch is tightly related to the Sultan Selangor, who sacrificed himself to the federal government. Visiting the Kota Ehsan Gateway Arch is definitely a fruitful experience for individuals who are interested to know more about the Selangor history. In the same time, the arch will also give you a reflection of the endless effort contributed by the local people in the past in order to protect their beloved country from any external intrusions.
Recommended Area to Stay in Selangor
Sunway
Gateway to theme parks, shopping malls, entertainments and eateries.
Bandar Utama/Kota Damansara
From budget inns to mid range and luxury hotel, perfect for shoppers and leisure travelers.
Batu Caves
Range of budget hotels and provide easy access to Batu Caves, Bukit Tinggi and Genting Highlands.
Sepang / KLIA Airport
Perfect for visitors on transit.