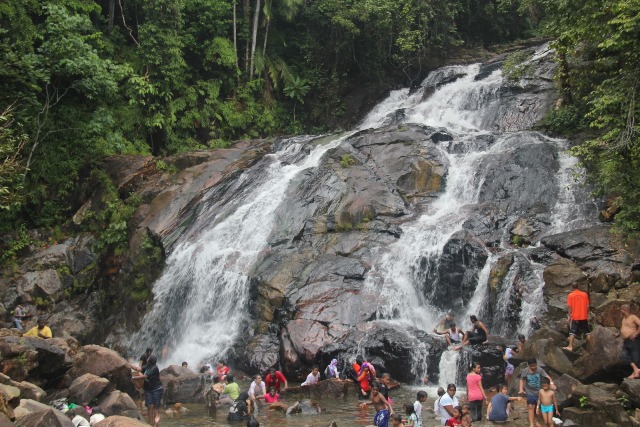 An ideal destination for a perfect and well-balanced holiday should offer you the best of nature, great sights, large scale shopping malls, skyscraper cities as well as the best beaches to spend a lazy evening. Malaysia is one such holiday destination that can give you the best of each of these. When you arrive, you will have 13 states to choose from , and, you will be spoiled with diversified of choices. The state of Johor is definitely an amazing state to visit where you get the best secluded holiday and still find the time to shop till you drop in a big scale shopping mall.
Kota Tinggi Waterfalls is a great place to spend an evening. The pristine recreational forest that surrounds the waterfall will definitely leave you mesmerized as you relax, take in the beautiful surroundings and be thankful for the best of nature. The waterfall here is a favorite among the locals and on weekends, the place is the spot to be in and it is rightly so as the recreational forest offers the coolest spot to hideaway from the heat of the day.
The waterfalls cascade down from more than 30 meters above the ground from the Mountain of Muntahak. The mist surrounding the mountain early in the mornings give the place a refreshing atmosphere and the forest is a great place to go for a good early morning run. The temperature here is lower than in the city and is a great place to spend a night in as well. The waterfalls consist of several pools of water from the main source that cascade down majestically. Take a swim in all the pools as you slowly make your way up to the top of the falls. There is nothing better than relaxing in any one of the pools as you take in your surroundings.
Kota Tinggi Waterfall Tips
You can follow the trail that leads up to the peak of the mountain. Watching the sun set from up here is definitely worth the effort of the painful uphill climb. The recreational forest is also a great place to spend the night at as there are many spacious chalets here. The Kota Tinggi Waterfalls Resort gives you the opportunity to be surrounded by nature and hear the beautiful jungle calls of the birds and insects. Staying at the resort enables you to explore the area and enjoy the waterfalls for longer.
Recommended Area to Stay in Johor
Johor Bahru City Center
Gateway to the city attractions, Legoland Theme Park and eateries.
Desaru
For those looking for beach vacation and nature exploration.