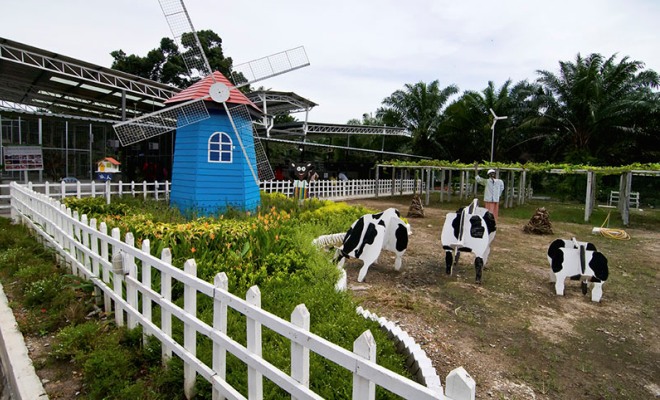 Being one of the leading pioneers in Malaysia's bird nest production, retailer and exporter, Kuan Wellness Eco Park is the country's first bird's nest ecology park. Situated in the state of Selangor, Kuan Wellness Eco Park emphasizes to have authentic, top-quality and safe bird's nest through the procedure of IS0 22000 of the Food Safety Management System.
Being one of Malaysia's top attractions for visitors to take a tour to, Kuan Wellness Eco Park has a total land of five acres fully utilized! This ecology park has a three-and-a-half storey swiftlet farm and visitor centre that is also surrounded by palm oil plantations and fruit farms! One of the main purposes of the fruit farms is to attract various kinds of insects, which then becomes a source of food for the swiftlets!
When visitors enter the visitor centre, they will be greeted at the reception lobby, and brought to theater to know more about these birds and how the process is done. In the visitor centre, there is also a bird nest processing and research centre, a cafe that has a menu emphasizing on bird's nest, a sales centre for the ones interested in purchasing bird's nest, a playground for the younger generation, an Eco-garden, a swiftlet gallery for viewing pleasure, restroom facilities and as well as ample parking space.
Of course, being visitors, they would also be shown a documentary video that comprises of the swiftlets and their natural habitat in order for visitors to gain a deeper understanding about these bird families. Apart from that, the video also portrays the advantages of bird's nest in terms of health and various values.
This ecology park would be a pleasant sight and environment to be in, seeing that it is landscaped beautifully for the eye of visitors. Plus, visitors could have some bird's nest soup for mental strength and physical health while enjoying the fountain view that is part of the landscape features.
Recommended Area to Stay in Selangor
Sunway
Gateway to theme park, shopping malls, entertainments and eateries.
Bandar Utama/Kota Damansara
From budget inns to mid range and luxury hotel, perfect for shoppers and leisure travelers.
Batu Caves
Range of budget hotels and provide easy access to Batu Caves, Bukit Tinggi and Genting Highlands.
Sepang / KLIA Airport
Perfect for visitors on transit.