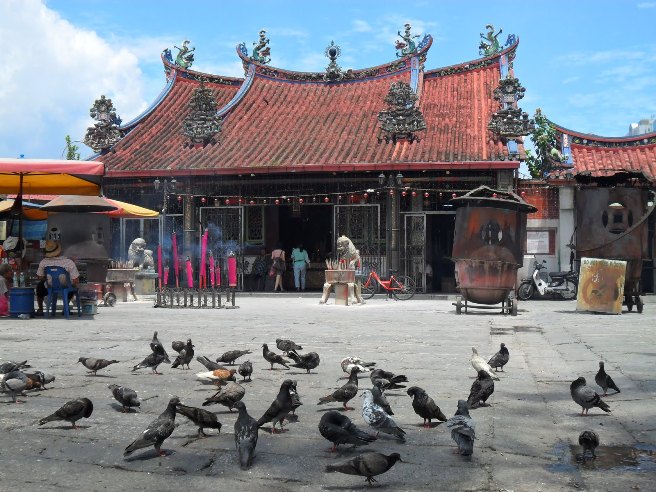 The Kuan Yin Temple, otherwise known as Goddess of Mercy Temple in English, is the oldest temple in Penang. Built way back in 1728 by Chinese immigrants, it was originally named Kong Hok Keong Temple and initially meant for hosting of social functions.
Despite being named the Goddess of Mercy Temple, the temple honours not just the deity of its namesake but also other Taoist / Buddhist deities, among them Ma Chor Poh, the patron saint of sailors and seafarers. Since refurbishments were completed in 2013, devotees are no longer allowed to bring joss sticks into the temple, making it much easier for visitors to walk around in the inner halls of the temple. As it is with most temples, a large urn is situated close to the entrance for offerings of joss sticks by devotees. Visitors will be awed by the intricate designs on the pillars and cross beams in the temple that are dotted with carvings of Chinese mythical creatures such as dragons and Qilin. There are many red-coloured lanterns that symbolizes the auspiciousness of the temple. Visitors can also appreciate murals of Devas on the walls, as well as various statues that are representations of various deities that the Chinese communities pray to. To better appreciate and experience the significance of this temple as well as the important of religion among the Chinese, the temple is best visited during the first and fifteenth day in every month of the Chinese lunar calendar, as well as the nineteenth day of the second, sixth and ninth months of the Chinese lunar calendar.
Despite the fact that Penang are littered with temples due to the large Chinese community, the Kuan Yin Temple stands out as the most important and historically-rich.
Kuan Yin Temple is located along Jalan Masjid Kapitan Keling.
Opening hour and entrance fee:
Entry to Kuan Yin Temple is free and the temple opens from 5am to 6pm daily.