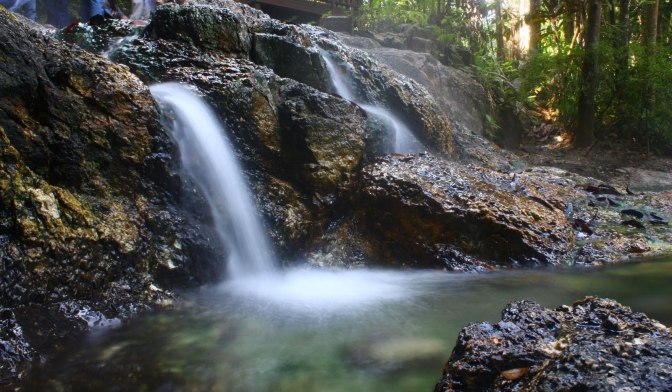 Spend a day at the La Hot Springs; a place where beauty, nature and wellness spring forth from under the ground. The hot springs here in Terengganu is a must visit, especially for those looking for a relaxing and quiet gateway.
Take a short drive out of the main town of Kuala Terengganu to the village of Hulu Besut; La Hot Springs await you to explore its beautiful landscape of flora and fauna, rock tunnels and the streams that flow through this terrain.
Getting to the man-made hot springs is an adventure in itself. There is nothing better than being surrounded by the luscious greenery. If you would like to spend the night here in this beautiful surrounding, the area has camping grounds that have added convenience to them because of the installed toilets. Camping here is an amazing experience and you will get to sleep under the stars, surrounded by natural beauty. If you are not up to camping out in the open, there are many chalets available for rent at very reasonable and worthwhile prices.
The wading pool and the many hot spring pools here are definitely a great way to spend a relaxing evening and enjoy the good benefits of hot spring as well! The hot water flows here contains Sulphur and is about 50 degree Celsius in temperature. This water is said to have good health values and can treat skin conditions. It doesn't matter if you have no ailment to cure because the hot springs is still an amazing place to relax and spend a great evening with your loved ones. The site also features smaller pools of water that were designed to make you feel like you were in a spa.
The site is also perfect for exploring. If you are up for a little adventure, this is a great place to be. Trek along the hidden jungle paths and explore what nature has to offer you. Along the trail, you will see a large boulder which has been named Batu Bahtera which literally means Ship Rock. Beneath this rock is 15 meters of a passage that many other travelers who do not choose to go off the beaten track will find. If you crawl under this rock and get over to the other side, you will find yourself at the Mystery River. The river is named so because the body of water that should naturally flow out into a bigger source disappears mysteriously into a small cave nearby.