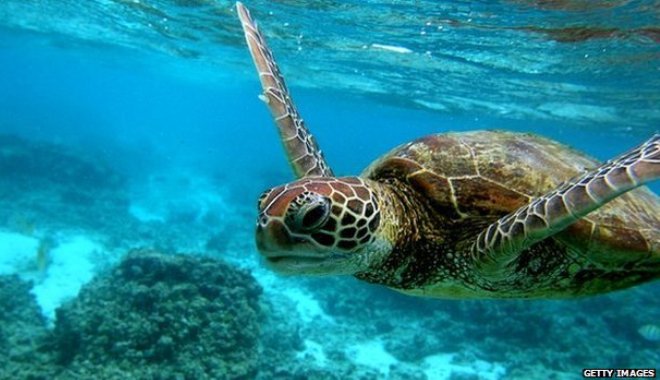 Pulau Kuraman, Pulau Rusukan Besar and Pulau Rusukan Kecil from top (credit: etawau)
The Labuan Marine Park is located within a 2-nautical mile perimeter off the coasts of 3 uninhabited islands, namely Pulau Kuraman, Pulau Rusukan Besar and Pulau Rusukan Kecil, and is just 2 kilometres off the coast of Labuan's southern tip.  The area has been declared a marine park since 1994.
Visitors can truly relax at the secluded white beaches spread across the 3 uninhabited islands away from intensive commercialization and crowd. The shallow and calm waters provide good snorkeling spots or visitors can just choose to just dip in the cooling waters. The lack of crowd means ample space on the beach for sun-bathing, picnicking and water activities. The main attraction of the park is scuba diving, visitors will be treated with 4 interesting diving spots with a dose of history because these spots are formerly ship wreck areas. Dive down and see how marine life has proliferated amongst the wreck. Visitors who are seeking time away from the lovely beach and water can head to Pulau Kuraman as it is a good place for jungle trekking.
Labuan Marine Park is one of the finest getaways that Labuan has to offer to visitors who are looking for tranquility, privacy and relaxation.
Labuan Marine Park is accessible via a 30-minute boat ride from Labuan International Sea Sports Complex.
Opening hour and entrance fee:
 Visitors to Labuan Marine Park are required to obtain a day-pass unless accommodation at the park has been reserved.