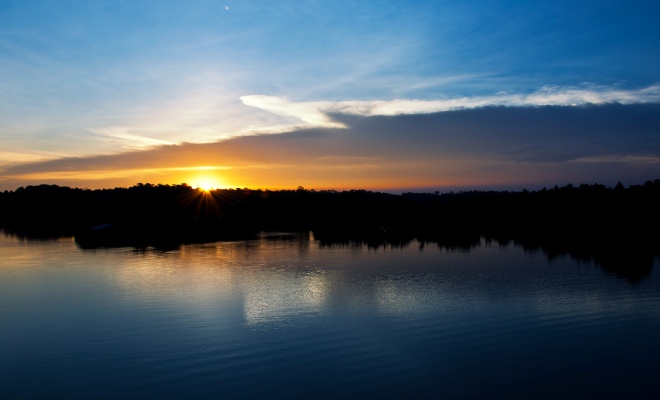 In Malaysia, there are many hidden treasures that one can explore. Stepping into the land of Malaysia itself would be a whole new experience, as you would be able to see the various views and societies, all with their very own culture well-embedded in the environment they build up. Undoubtedly, visitors of Malaysia would definitely love to find out more about the culture and different trademarks of Malaysia. However, when you are all tired exploring the wonders of Malaysia, you can also take some time out from the overloaded journey in Malaysia by enjoying the refreshing breeze of Malaysia's breathtaking lakes.
One place that can allow you to do so is the Lake Bera, located in Pahang. One unique point of the Lake Bera is the fact that the lake is one of the largest natural freshwater swamps in Malaysia. Here, you can rediscover the untouched beauty of Malaysia's Mother Nature, with small islands popping in the center and the sides of Lake Bera. Stepping on the land of Lake Bera will instantly gives you the feeling of being in a preserved wildlife world, as the environment of Lake Bera will remind you strongly of the wildlife scenes you often watch in movies.
Here in Lake Bera, you will catch sight of the different species of plants and birds residing in this lake. To be precise, there are more than 200 species of birds residing here, along with another 50 types of mammals and 94 species of fishes. In the same time, it will also be a precious experience for you to visit Lake Bera especially when you will obtain the chance to see some of the animal species protected by the country. Some of these animal species include the Striped Giant Soft-Shelled Turtle, the Malayan Giant Turtle, and also the Malayan False Gharial.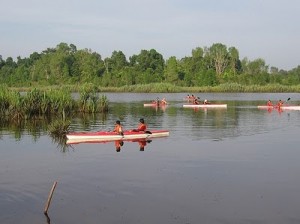 In order to further experience the wildlife atmosphere in Lake Bera, you can also join some activities being offered here such as kayaking and boating. These activities are exciting activities especially for individuals who wish to tour around the Lake Bera, in search of more treasured species of animals, plants and insects living here.
Apart from that, if you are interested with the culture of the local people living around the Lake Bera, you are also allowed to participate in the homestay program provided at Lake Bera. The local tribe – Semalai – is more than welcome to help you in learning more about their culture, tradition, and lifestyle. When you leave Lake Bera, you will not be surprised that you had mastered some of the treasured skills of the local people such as the weaving of pandan leaves, fishing and making delicious local meals, as well as the different effective way to harvest in the field.