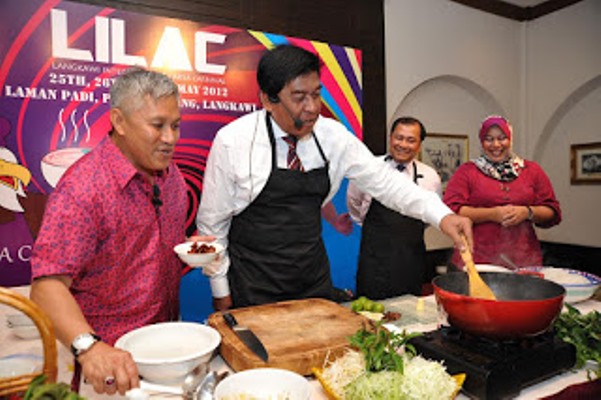 Demonstration by chef in the past event (Photo credits to: beautifulangkawi.blogspot.com)
Laksa is a popular local delicacy in Malaysia which consists of rice noodles served either in curry or sour soup. Almost every state has its own intricate flavors which makes it exotic.  The perfect bowl of Laksa combines a kaleidoscope of flavors – a beautiful balance of the sweet, sour, savory, spicy, with a tinge of bitterness. Whether it's the murky, tangy fish-broth or the luscious creamy lemak version, all of us have a soft, special spot in our hearts (and tummies) for bowlfuls of hearty, comforting laksa.
This year, the Langkawi International Laksa Carnival (LILAC) is back again to search for the Laksa Ambassador of the year who will walk home with RM10, 000. There will also be an assortment of exhibits, sales and activities all centered around Laksa for families and children. Local celebrity chefs will support the event by conducting a live cooking demonstration of their favorite laksa dishes. So for all you laksa lovers out there, mark your calendar as you would not want to miss this event.
Event:  Langkawi International Laksa Carnival (LILAC)
Organizers: The Langkawi Development Authority (LADA)
Venue: Laman Padi, Pantai Cenang
Date: April 2014
Ticketing: Free admission
Recommended Hotels in Pulau Langkawi


Berjaya Langkawi Resort (5 stars)

Check rate

Sheraton Langkawi Beach Resort (5 stars)

Check rate

The Danna Langkawi Hotel (5 stars)

Check rate

The Frangipani Langkawi Resort & Spa (4 stars)

Check rate

Bayview Hotel (4 stars)

Check rate

Holiday Villa Beach Resort & Spa Langkawi (4 stars)

Check rate

De Baron Resort Langkawi (3 stars)

Check rate

Federal Villa Beach Resort (3 stars)

Check rate

White Lodge Chalet (2 stars)

Check rate