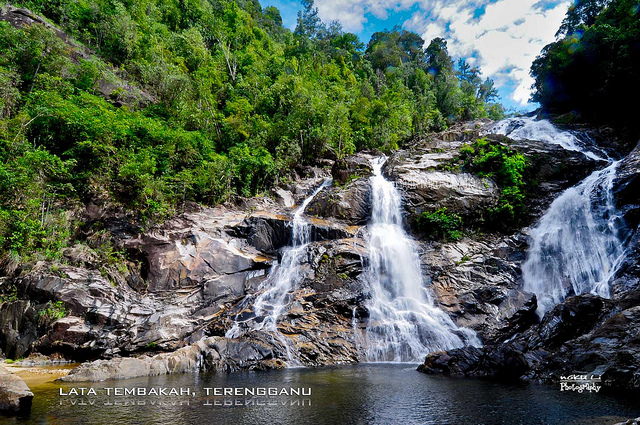 The state of Terengganu is located on the east coast of the peninsular and is definitely a great place to visit while having holiday in Malaysia. It is perfect for those looking for an amazing gateway; one that you will remember for a long time.
If you love getting up close with nature and just exploring nature at its best, then the Lata Tembakah Waterfalls will definitely make your day. The cascading falls are situated about twenty kilometers south of Jertih and feature an impressive vertical fall that sources from a stream. The nature park at the bottom of the trail is a great place to be at as you embark on your journey to the falls. The luscious greenery here is an amazing place to discover and you will love the coolness of the tropical rainforest. Most of the trees along the trail are labeled and you can enjoy yourself, discovering new trees as you make your way up to the cascading falls. The trails here are well marked and this makes it safe and easy to thread even without a guide.
The cascading falls have made beautiful large pools that are great venues for a family outing. The large boulders that dot the surrounding area make the site a perfect place for a picnic. The water is cool and fresh and there is nothing better than getting into it and enjoying yourself! The beauty about Lata Tembakah falls is that some of the boulders here are slippery and can even be used as natural slides which make your day out at the waterfall an even better experience. Don't stop at the first cascade. There is so much more to see if you thread farther along the trail. The main attraction here is at the big fall. Here, you will see the beautiful fall the cascades at an altitude of about 80 meters and the water pool here is definitely impressive. The site is perfect for a relaxing day as you hear the sounds of water flowing down into the pool.
The upper falls are an even more exciting experience. The trail that leads you here is quite challenging and is sometimes quite a scramble uphill but is definitely worth the effort. Upon arrival at the upper falls, you will love to find the cool pool of water here that flows gently downhill. From the top, you can see the water flowing from a high altitude, all the way down. As you head farther down the trail, you will realize that there is a quieter stretch of water here and this is a great place to just spend a quiet evening.