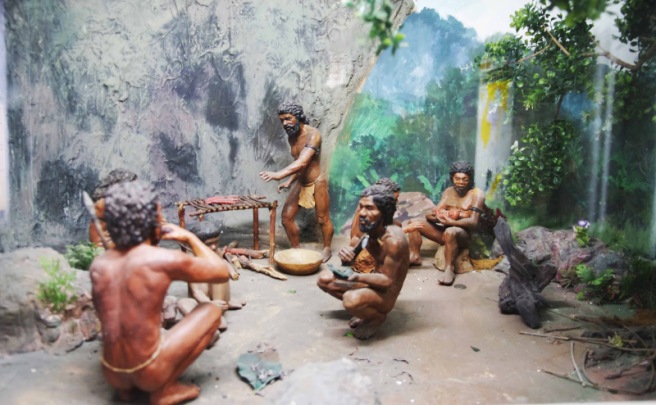 The display of Perak Man in Lenggong Archaeological Museum
The Lenggong Archaeological Museum is dedicated to the findings and research results that are done at the Lenggong Valley. The valley is itself a World Heritage Site recognized by the UNESCO in 2012 due to its importance as an archaeological site.
The museum displays many important artifacts found at various archaeological sites in the Lenggong Valley. Visitors will be treated with the most famous feature of the museum, which is the Perak Man exhibit. The Perak Man is the oldest most complete human skeleton found in Malaysia. Found in 1991, the Perak Man dates back to the Paleolithic period as old as 11,000 years ago.  Also on display are artifacts from two of the oldest prehistoric settlement in Malaysia, Bukit Jawa and Kota Tampan, which are respectively believed to be 300,000 years old and 75,000 years old. Over 150,000 stone tools have been recovered at Bukit Jawa, while Kota Tampan was revealed to be a Stone Age workshop. Visitors will get to view exhibits of these stone tools that were made for different purposes. Visitors will also get to view pictures of prehistoric cave paintings, which can be found at various archaeological sites such as Gua Badak and Gua Tambun. Visitors will also be shown displays of various artifacts such as river shells, bone tools, pottery, beads and boats, among others, found at different archaeological sites namely Lembah Bernam, Gua Singa, Gua Batu Putih, Gua Kelilawar and Kampung Temelong.
The Lenggong Archaeological Museum is the one-stop centre to understand the complexities and natural history of prehistoric Malaysia.
Lenggong Archaeological Museum is located near the town of Lenggong, close to Kampung Kota Tampan. It is about 1 hour drive from Ipoh, heading towards north along the North-South Expressway before taking the E1 exit into Jalan Baling – Kuala Kangsar.
Opening hour and entrance fee:
Lenggong Archaeological Museum opens every day from 9am to 5pm and admission to the museum is free.
Recommended Area to Stay in Perak:
Pulau Pangkor
The perfect place for seeking true island escape, with just a short ferry ride from Lumut.
Ipoh City
A gateway to all the city attractions with diversified of accommodation options available to choose from.
Taiping
A heritage town rich in tin mining history and serene atmosphere.