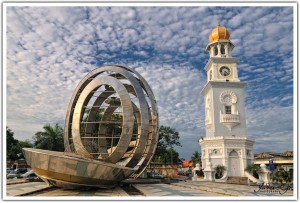 Being in George Town of Penang Island, a famous iconic building that is worth a stopover would be the Clock Tower. This clock tower is definitely distinguishable as it stands as high as 60 feet, located at King Edward Palace, situated beside the Penang Port Commission.
From a historical point of view, a tycoon from Penang, named Cheah Chen Kok, had this clock tower built in 1897 to commemorate the diamond jubilee of Queen Victoria's reign, and spent almost 35, 000 Straits dollars to have this clock tower completed in 1902. Unfortunately Queen Victoria passed away a year before 1902.
Visitors that drop by for a visit to view this tower will notice that there are four tiers, and the base tier is of an octagon-shaped structure. The following two higher tiers have windows as well as balconies and clocks on each surface, while the last tier has roman-inspired pillars and a domed cupola.
One interesting feature about this clock tower is the fact that it has different angle. The tower leans slightly towards a certain position and that remains as an intriguing factor to tourists when they realised it.
This tower, accommodated by 6 steps into total that leads towards the main door of this clock tower also has its specific meaning. The 6 steps in total represent the number of decades of the Queens' reign.
As of today, when visitors come to visit the clock tower, they would also notice a metal betel nut sculpture, or more commonly known as the 'buah pinang' to local Malaysians. Having the sight of these two interesting designs, whereby the clock tower indicates past vintage structural design, and the metal sculpture indicates modernism, it definitely indicate that Penang preserves its history well, but also welcome the futuristic changes.
Recommended Area to Stay in Penang:
Batu Ferringhi
Line up of beach front resorts from budget to luxury along Batu Ferringhi Beach.
Georgetown
For those looking for boutique style hotels and countless of cosy backpacker hostels.
Gurney Drive
A series of luxury hotels with fantastic sea view. Eateries and night entertainments are within walking distance.
Bayan Lepas / Airport
For business travelers.