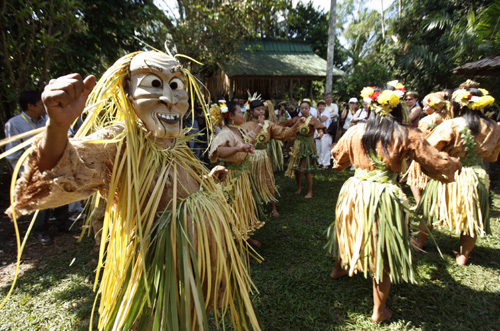 A traditional wooden face mask performance (the "Main Jo-oh" dance) during the Festival  (Photo By: english.eastday.com)
Mah Meri is one of the 18 sub-ethnics among the aborigines (Orang Asli) in Malaysia. Every February, they will be celebrating the Ancestral Day (Ari Moyang) to express their gratitude via prayers to the spirits for blessing the villagers; especially to a female spirit guardian – Muyang Gadeng. As a way to represent the spirits' blessings, the mixture of the rice powder base solutions, flowers and leaves to mark the attendants' forehead and forearms. Do expect to see yourself admiring the inborn skills of the Mah Meri in craft work and weaving skills from their woven skirts, headdress and streamers.
It is celebrated over three days with their dance called "Main Jo-oh", to invite the ancestral spirits to participate in the festival. The men will be wearing wooden masks and perform with movements to reflect their daily routine such as fishing and farming, along with the women dancing with ritual songs and musics played from bamboo, viola, drum, and brass gong.
Event: Mah Meri Ancestral Day Festival
Date: 19th February 2014
Venue: Perkampungan Budaya Mah Meri, Pulau Carey, Kuala Langat
Recommended Hotels near to Pulau Carey

Gold Coast Morib International Resort (4 stars)
Well preferred and the only beach resort in Selangor, located on the Morib Beach, the resort is one of the most famous weekend family holiday destinations.