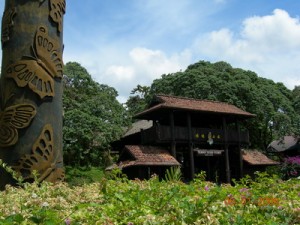 The thirteen states of Malaysia are amazing tourist destinations. If you are considering a nice relaxed holiday, not too far from the main city of Kuala Lumpur, then Melaka may be a state that you want to consider visiting. Melaka has been named the historical city of Malaysia and while most of its tourist destinations are mostly historical, while the Butterfly Farm and Reptile Sanctuary is an amazing place to spend a day with the family.
Get up close and personal with some of the most beautiful and agile creatures on Earth; the butterfly. The farm is opened and plays home to some twenty or more species of butterflies that fly freely in the almost natural setting. Inside, you can see that the park has gone out of its way to ensure that the natural setting for the butterflies has been maintained. The landscaping here is amazing; a perfect place to just go for a stroll. There are mini waterfalls that dot the walking path and green trees on either side, giving visitors the feeling that they are in an exotic jungle on a look out for the beautiful butterflies.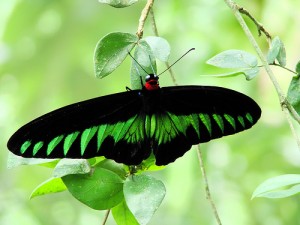 The farm is the perfect place to see butterflies flying around freely as you thread the pathway of the farm. Here is a great place to see the very rare species of Raja Brooke Birdwing butterfly. This species is very rare and can only be found here in Malaysia and Indonesia. This rare butterfly has come to the Butterfly Farm in Melaka and can be seen flying around freely in the enclosure here. The aviary is a beautiful place to just sit and watch the beautiful creatures fluttering gently as they spread nectar from one flower to another. It certainly makes one feel like they are standing in a magical world. The colorful butterflies will even fly close around you if you sit still enough. It certainly is an exciting and memorable experience to have butterflies fly around you. The Butterfly farm is also a great place to visit for families with small children. Children will definitely love the experience of having a butterfly land on them. One attraction in the farm is the Koi Garden. Besides seeing a pond full of beautiful Koi fish, the garden is also home to two leopards.
The farm is also the place to be to see beautiful birds that live here in the park. Also a main attraction that was recently opened to the public is the reptile aviary. The aviary showcases more than twenty different species of all the reptiles most people would love to see at the farm; lizards, snakes, crocodiles and tortoises.
Recommended Area to Stay in Melaka
Jonker Street
For those looking for culture exploration and food trails. Also known as a backpacker paradise.
Melaka Raya
A gateway to all the city attractions with wide range of accommodation options.