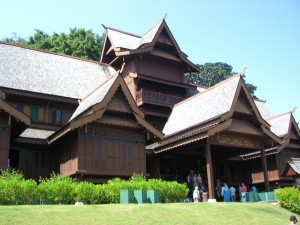 Come and visit the state of Melaka. Known as the historical city of the country, Melaka has so many amazing historical landmarks and destinations to offer for a memorable vacation in Malaysia.
One great place to start your tour in Melaka is the Muzium Kebudayaan Melaka or the Melaka Cultural Museum. Here, you will have a better insight and understanding of the history and culture of the Sultanate of Melaka. Public buses that pass Jalan Kota should be sufficed to get you to this destination. Taxis are another great way to get here as well. The museum sits at the foot of St Paul's Hill and is a great place to start your day before heading up to the hill to see the spectacular view from the top.
The museum showcases some of the best treasures of the city and your visit to Melaka would not be complete without stopping by this Cultural Museum. The museum houses over a thousand artifacts, photographs and paintings that give visitors a clear illustration of the grand Malaccan Malay Sultanate. The museum is visitor friendly and has clear labels and illustrations that help visitors gain a better insight of the history and administration of the great sultanate. A highlight of the museum is the life like human wax structures that are assembled to give a clear picture of what it was like back in the glory days of the Malaccan Malay Sultanate. The royal paraphernalia and the meetings between the sultan`s loyal subject and the sultan himself is portrayed here. Life in Melaka during those days is also one of the scenes that the human wax structures depict. The museum is also home to some of the ancient weaponry that was used in the efforts of the heroic warriors to protect their sultan. Here is also a great place to read up about the five warriors of the land and the weapons they used in their battles.
There is a section in the museum that is dedicated to these legendary Malaccan warriors and the tales of their bravery, clashes with each other and their service to the sultan. It certainly is an enchanting tale of loyalty to the land and to the sultan. Then, head on to the gallery that showcases the arts and crafts of the people of Melaka. Some of the artifacts here date centuries back and is a great experience to just look at some of these ancient artifacts that have been so well-preserved through the generations. The museum is opened every day, except on Tuesdays from nine in the morning to five.
Recommended Area to Stay in Melaka
Jonker Street
For those looking for culture exploration and food trails. Also known as a backpacker paradise.
Melaka Raya
A gateway to all the city attractions with wide range of accommodation options.