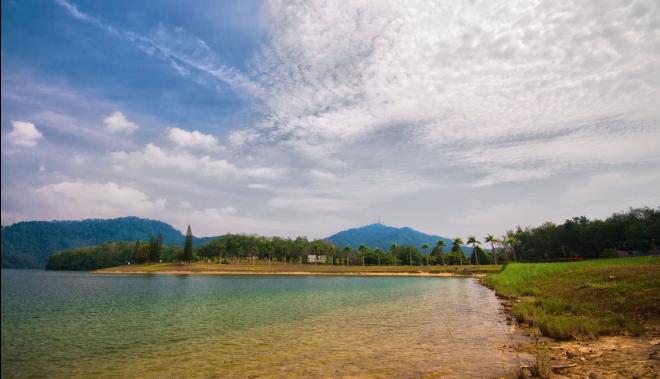 Mengkuang Dam is the largest dam in Penang with a retention capacity of 23.6 billion litres. Officially opened in 1985, it is frequently visited for recreational and relaxation purposes.
The calm and serene body of water is a sight to behold. Visitors can have a picnic on the green grass by the dam, or take a rest at the readily available benches and enjoy the company of the great view and fresh cooling air. The main feature of the area is its 10 kilometres long jogging trail that spans past rubber estates and orchards. Most visitors to the dam is usually for exercises in the morning or in the evening, where large groups of gather to practice tai-chi, line dancing or general exercises. Visitors are very welcomed to join in. Another main draw to the dam is the annual International Dragon Boat Festival, where many dragon boat teams compete. This is usually the time when visitors will pack the dam for witness the competition.
The serenity and tranquility offered by Mengkuang Dam is definitely worth a try for visitors who are seeking a relaxing day-out from the hustle and bustle of city life.
To reach Mengkuang Dam, use the North-South Expressway from Penang Island and take the Exit 162 (Prai Interchange). Then, head towards the town of Bukit Mertajam and exit at Jalan Permatang Batu (second exit of Bukit Tengah roundabout) before bypassing AEON Seberang Jaya City. After this, take a left turn into Jalan Berapit and turn right upon reaching a t-junction. Mengkuang Dam is just straight ahead.
Opening hour and entrance fee:
Mengkuang Dam is open to public.  and entry is free.