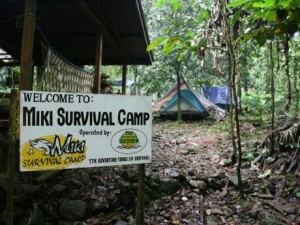 In Sabah, you will find yourself being presented with a little bit of everything. Besides of exploring the big city filled with a variation of local cultures and traditions, you should never forget to experience the precious wildlife adventure as well when you are in Sabah. To get you started, perhaps the best place for you to explore is the Miki Survival Camp.
The Miki Survival Camp is a total opposite of everything you are expecting to have in a big city. No electricity, no telecommunications lines, no buzzing of cars honking, and no high-tech gadgets that one would never live without today. Instead, you will find yourself being surrounded by none other by green trees and more green grasses, perhaps with a tiny dot of flowers around you, helping in brighten up the whole greenish environment.
Individuals who are interested or are having a passion in adventurous activities should definitely visit the Miki Survival Camp. The camp will test your survival skill and the most you can do is to make sure that the survival skills you are equipped with can be applied and be useful to you throughout your stay in the camp. In here, it is no surprise that you will constantly be seeing scattered rocks, pools of mud, and leeches crawling into your socks when you are at it. Thus, before you enter the camp, make sure that you have all the tools and equipments you need to avoid unwanted injuries or frustration during your adventure.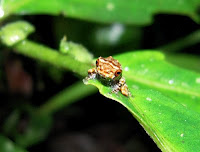 In the same time, besides of solely putting your survival skills in testing, you would also obtain the chance to observe the precious Mother Nature well-preserved by the local people in the camp, which some of this treasured flora would never be found in your home country. You can even take out your camera and snap pictures of them for future reference or for remembrance of your adventure and experience in the Miki Survival Camp.
After a long and exhausting adventure hiking in the camp, you will then be guided by our very friendly and welcoming tour guide in the jungle, which you can learn more about the different types of vegetables and fruits planted by the local people in the forest. The introduction and explanation provided by the tour guide will definitely be useful for you in the future especially when some of the fruits and vegetables you can find in the forest have an important medical value which can help treating your sickness at times. This knowledge might also help save your life especially when you are well-equipped with the knowledge of poisonous plants that may endanger your life.
Recommended Area to Stay in Sabah:
Kota Kinabalu
From city's heritage exploration to islands escape, accommodation option in KK is countless.
Mount Kinabalu
For visitors looking to discover mother nature and access to the highest mountain in South East Asia.
Semporna
Gateway to the islands paradise (Mabul Island, Sipadan Island, Kapalai Island and more!).