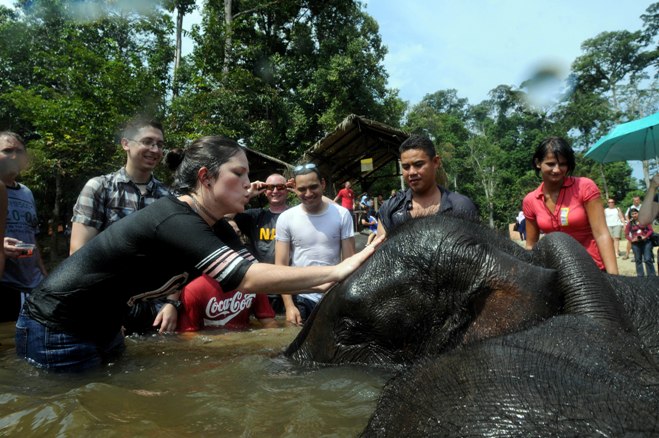 Visitors bathing the elephants at the conservation centre
The National Elephant Conservation Centre, also known as Kuala Gandah Elephant Sanctuary, was established in 1989. It serves as a base for elephant relocation programme, which is aimed at saving, rehabilitating and relocating elephants from areas that are under threat of encroachment and destruction.
Visitors have their visiting timetable planned out by the centre. From 10.30am to 12pm, visitors will first observe the elephants wandering freely along an established trail. Visitors will then be shown a video presentation at 1pm (also available at 1.30pm and 3.45pm), which is a documentary about the team's effort in helping to relocate and rehabilitate the creatures. After the video presentation, visitors will get a chance to feed the elephants who will be lining up in a row within their own enclosure. At 2.15pm, the elephants will proceed to the bathing area for bathe time as visitors can watch on from a close distance at their playful demeanor. A short talk on elephant conservation efforts is scheduled on 2.45pm and visitors will get to know more about this precious animal during the talk.
The centre offers visitors a very close approach to the creatures and is a must visit to appreciate the value of the critically endangered elephants.
The National Elephant Conservation Centre is located at Kuala Gandah, which is about 110 kilometres from Kuala Lumpur, approximately 1 hour and 30 minutes drive. If visitors are departing from Kuantan, the capital of Pahang, the journey is about 167 kilometres, or 1 hour and 50 minutes drive.
Opening hour and entrance fee:
The National Elephant Conservation Centre opens from 8am to 1pm, and 2.30pm to 4.30pm everyday except Fridays, on which opening hours are from 8am to 12.30pm, and 2.30pm to 4.30pm. Entry to the centre is free but visitors are encouraged to make donations in support of the effort by the team at the centre.