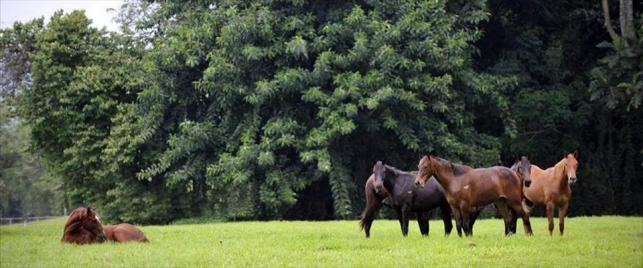 Head over to the state of Perak; the state where you can get up close to nature and see the best that nature has to offer you. There are many interesting destinations in Perak that will keep you spoiled for choices on which one to put down on your itinerary list.
If you love horses and love seeing them gallop gracefully, the best place to visit would definitely be the National Stud Farm in Perak. The National Stud breeds Thoroughbreds; more so from the encouragement of the nation's first premier. Tunku Abdul Rahman Putra Al Haj believed that it was possible to bring such a breed to the tropical country for breeding and it has become a beautiful stud farm where visitors can come and see such a beautiful place that started out with a humble idea.
The stud farm has been around for more than two decades now and is definitely a successful stud farm that has made many good and profitable sales to a reputable client list that are involved in the racing industry. The lineup of horses here are definitely the quality breed that are bred for the market. The stud farm prides itself with focusing more on quality rather than quantity. The farm has about 200 horses of all ages and they can be seen in the shades, in the open fields or being attended to by the staff here.
You may not be a buyer looking for a good stallion to purchase for the next big race. You can still make your way to the National Stud farm and enjoy the view. The lush green rolling hills and the beautiful lakes are just some of the reasons to come over here and be a part of such a great project that began from humble roots. There is a small river that runs through the farm and there are ponds here to that make the landscape an even more beautiful one; perfect for a relaxing end to your day. The stud farm allows you to see the best environment suitable to breed such fine stallions. The main office has some useful information about the best environments and other information about breeding the Thoroughbreds in the tropical regions. These equestrian grounds are definitely a great place to get up close to some really beautiful stallions. There are horse shows at certain times of the year and you can see some of the horses being trained or attended to here. Remember that visits are only by appointment so do make a reservation to avoid disappointment!
Recommended Area to Stay in Perak:
Pulau Pangkor
The perfect place for seeking true island escape, with just a short ferry ride from Lumut.
Ipoh City
A gateway to all the city attractions with diversified of accommodation options available to choose from.
Taiping
A heritage town rich in tin mining history and serene atmosphere.