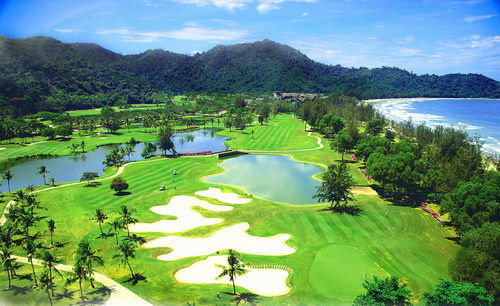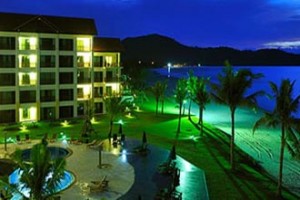 Getting a good accommodation during vacation is very important so that you can further enhance your holiday experience. In Sabah, there are many hotels and resorts which provide you with first-class service so that you will be able to enjoy your vacation entirely. If you are an active golfer and are looking for a comfortable accommodation to avoid your stay from becoming too boring, perhaps you can try out the Nexus Golf Resort Karambunai in Kota Kinabalu.
Upon arrival, you will instantly be amused by the jaw-dropping landscape of the golf resort's surrounding. The spread of green field along with the support of the clear blue sky will definitely contribute to a fantastic photograph for you, your family, and your friends. If you are wondering, there is a reason for the astounding design and structure of the entire golf resort. Being designed by Ronald Fream, an American golfer architect, the golf resort is a combination of both local and foreign cultures designing style; thus, if you are to visit the golf resort, you might even find certain similarities of the building design with the ones in your home country.
Another amusing feature of the golf resort is the fact that the green field is extended towards the beach located very near to the golf resort. Thus, besides of spending your time indulging in your favorite sports in the golf resort, you can also grab this chance to stroll around the sandy beach while experiencing the chilling breeze brushing across you in the evening and also in the morning.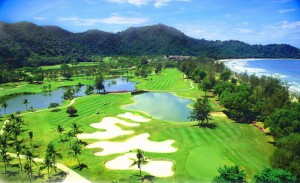 The Nexus Golf Resort is also a perfect spot for individuals who wish to spend their time peacefully and in the same time, to put away their pressure and stress they often experience in their workplaces. Even if you are not familiar with golf, you can also start your practice on the 18 holes golf course. There are also rentals available for golf equipments in case you did not bring your own one or if you are missing certain equipments.
After an exhausting day spent on the golf course, you can also head on to the food and beverages outlets provided by the golf resort, which the food is mostly prepared by the local people with their traditional handmade skills. Thus, you can take your own time indulging in the delicious cuisine in the golf resort while enjoying the precious moment of peace which is hard to obtain even when you are in your home country.
Recommended Area to Stay in Sabah:
Kota Kinabalu
From city's heritage exploration to islands escape, accommodation option in KK is countless.
Mount Kinabalu
For visitors looking to discover mother nature and access to the highest mountain in South East Asia.
Semporna
Gateway to the islands paradise (Mabul Island, Sipadan Island, Kapalai Island and more!).