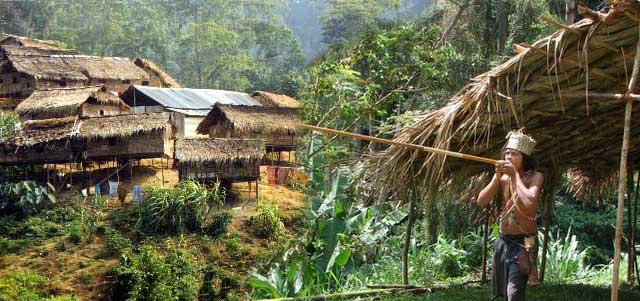 The state of Perak is an amazing state to visit with so many destinations to visit. Located just a two hour drive away from the city of Kuala Lumpur, Perak is home to many exciting destinations for nature lovers, heritage enthusiasts and those looking for new places and sights to explore.
One destination that you may want to consider visiting will be the Orang Asli Aboriginal Villages in Perak. Spread across the entire state in the rural regions, Orang Asli villages are unique places that you can explore and venture into to fully gain a better insight in to the lives of these unique communities.
The aboriginal village in the Batang Padang district is particularly popular. It encompasses a few regions inhabited by the Orang Asli community. Spend a day at the village or maybe two to fully encapsulate what life is like here. Culture and heritage enthusiasts will definitely love the experience here. Stay in one of the huts that the Orang Asli build by themselves from material found from the nearby forests. The villagers leave peacefully and the setting here is very relaxing set amidst the beautiful luscious greenery. There is nothing better than enjoying a relaxing day with the friendly Orang Asli.
The Orang Asli will gladly invite you in for a meal or a drink. Mingle with them and you will discover many interesting and unique traditions and beliefs that can only be found here in Malaysia. The people here interact with their surroundings and are very creative. Of course, they have definitely advanced over the years, yet the traditions and cultures have been successfully preserved through the generations. The Orang Asli work to support them. They derive income from the sale of traditional handicrafts. This is an intricate process that you can see them in action right here in the Orang Asli village. They will gladly allow you to try your hand at some of the processes and you will definitely enjoy yourself as you learn more about their handicrafts. The villagers make baskets, decorations and other household items out of the natural resources that they find and this is definitely an interesting and unique experience for anyone from the city.
When in the Orang Asli aboriginal village, do try out the king of fruits; the durian. It is a fruit that you either hate or love so why not try out first and decide for yourself? You can also wander through the agriculture produce that the villagers plant here for their daily needs. In short, the aboriginal villages of the Orang Asli are definitely must-visit destinations that will give you a unique experience.
Recommended Area to Stay in Perak:
Pulau Pangkor
The perfect place for seeking true island escape, with just a short ferry ride from Lumut.
Ipoh City
A gateway to all the city attractions with diversified of accommodation options available to choose from.
Taiping
A heritage town rich in tin mining history and serene atmosphere.