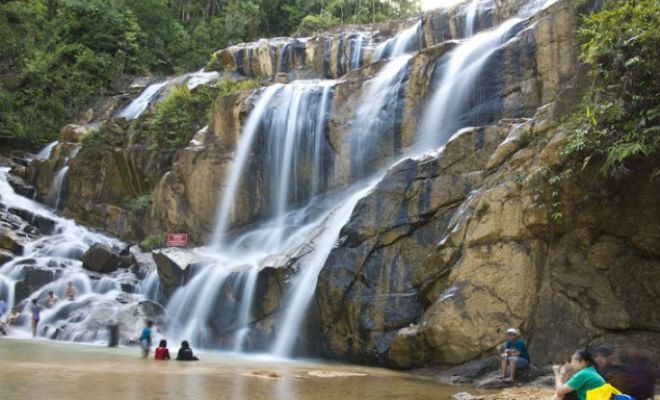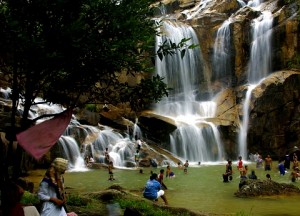 The largest state in the Peninsular of Malaysia is Pahang and she beckons you to come and visit some of natures' best offerings. There are many nature reserves, parks and beautiful nature settings that will leave you spoiled for choice so here is a review of the Pandan Waterfalls which is an exciting and beautiful destination that you should consider visiting.
The Pandan Waterfalls is the ideal peaceful gateway; away from the bustling city and the usual tourist destinations. The fall is located quite a long way off from the nearest town but promises a day of secluded fun as you enjoy the beautiful scenery near the falls. The water fall is more than 70 meters tall and is a great place to spend a day out with the family here. Change your plans to head to the beach and instead, be mesmerized by the beauty of the Pandan Waterfalls and enjoy a day surrounded by the beautiful greenery. Getting to the waterfall is quite easy and is a mild adventure suitable for even the younger set of people. Surrounded by the luscious green and complimented by the orchestra of the tropical forest, it's easy to feel like you are in paradise. The best time to visit the falls is during the wet season because this is the season when the waterfall falls with more abundance. The water is not too cold and is an ideal place to take a swim in; especially for the young ones as the water is not too deep. There is nothing better than taking a swim in this beautiful pool of water with the waterfall as your back drop and the beautiful greenery as your curtain of privacy. You can just relax in the water, close your eyes and hear the beautiful sound of birds chirping and the trees swaying gently in the breeze.
The area around the Pandan Waterfalls is also ideal for exploring. One unique plant found in abundance here is the Pitcher Plant. This type of plant grows in open areas and swamp forests and can is unique to places like Sabah, Sarawak and some parts of the Peninsular of Malaysia. The conservation area near the Pandan Waterfalls is a must visit if you are in the area for a unique experience up close with these carnivorous plants that eat insects and small creatures of the forest. If you are not touring the area with a guide, it is advisable to put safety first and not go too close to the plants.