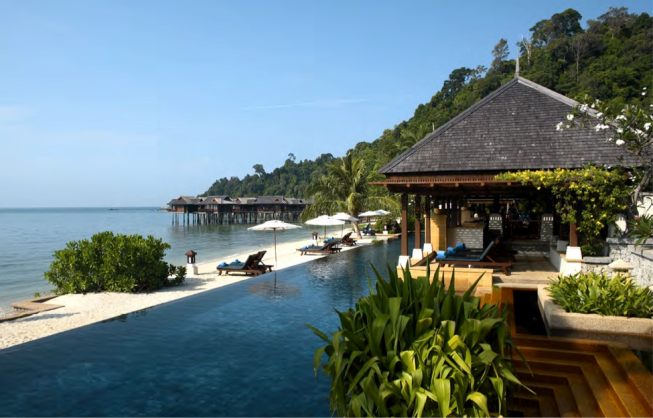 Relax, unwind and just enjoy the beautiful view of the never ending horizon at Pangkor Laut Resort. Probably the best resort to stay at while on Pangkor Island in Perak, this is definitely the right place to be if you are looking for a good place to spend your gateway. The Pangkor Laut Resort is also a great place to spend a honey moon or a romantic escapade with your loved one.
Voted the Number One in the World by Cond`e Nast Traveller in 2003 and the Best Beach Resort award by Senses Wellness Guide Germany in 2005, the Pangkor Laut boasts high standards that it keeps to ensure that your stay at the resort is one that you will cherish for a long time. This luxury brand resort is privately owned and is situated on the beautiful island of Pangkor which has been in the making for over a million years and it definitely is no wonder the beautiful white sandy beaches are nothing but spectacular. The resort looks out to the ocean and it is nestled well in the shade of the tropical rainforest. Either way, it definitely is a prime location for your gateway. Enjoy the seclusion that you get at Pangkor Laut where you can take a walk down the white sandy beaches and enjoy the beautiful vanilla sky line and create beautiful memories amidst the best of nature's offerings.
Rooms here priorities privacy and you will be spoiled for choice on what type of accommodation you want. Choose from Pangkor Laut's Spa, Sea, Beach, Garden and Purnama Villas that promise you comfort, elegant interior designing and a beautiful view. The most popular villa among visitors is the Sea Villa where you get to walk across the wooden link to your beautiful villa which has a large balcony that overlooks the beautifully painted sky. Rooms here are definitely worth the money spent and they definitely redefine luxury and comfort! There is nothing better than coming back to a comfortable room and just taking in the view as you fall asleep.
The Pangkor Laut Resort has won many awards and it certainly is not for nothing that they were deemed best beach resort. Guests are offered first class facilities and services here and there even is a spa in the hotel grounds that will cater to your body's desire to be pampered and relaxed before you head back home! The resort also offers many restaurants on the hotel grounds that celebrate having the luxury of flavors and local delicacies dished out for your pleasure.
Pangkor Laut Resort is definitely the best place to be at to enjoy an amazing holiday under the sun!