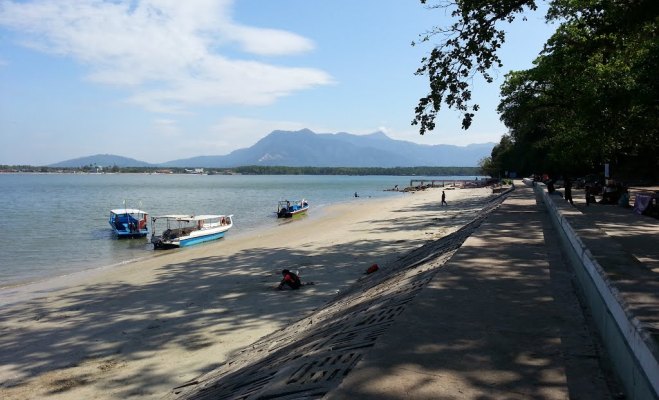 Pantai Merdeka, or Independence Beach, is a recreational beach tucked near the quiet town of Kuala Muda in Kedah.
The beach is well-known amongst the locals, usually being the place of choice for weekend family picnics and team building, but it is less prominent among outstation visitors. Visitors can immerse themselves into the crowd at the beach and experience the liveliness of locals having a good time, or find a quiet spot amid the vast stretch of beach front to enjoy a quiet afternoon. In an up-close with nature, visitors can enjoy the tropical sun yet be cooled by the gentle sea breeze. Ample space at the beach means opportunities for group activities such as games and picnic, or simply go swimming in the relatively shallow waters. Local operators provide water-based activities such as sailing, surting, canoeing, waterskiing and banana boat rides. For more adventurous visitors, island hopping to nearby Pulau Bidan and Pulau Song Song is available. Visitors can stop-by a historical relic, nearby the beach is a World War II bunker built by the British forces to protect the area from Japanese invasion. There are also stalls nearby the beach for the convenience of visitors to buy food and beverages. Basic amenities such as restrooms are easily available too.
Pantai Merdeka is a fun-filled beach getaway that will surely leave behind many exciting memories.
Pantai Merdeka beach is located 60 kilometres from the town of Alor Setar and 110 kilometres from Penang.
Opening hour and entrance fee:
The beach is open to public with no entrance fee required.
Recommended Area to Stay in Kedah:
Pulau Langkawi
The best island destination for seeking true escape complemented by a range of activities.
Alor Setar
A gateway to all the city attractions with accommodation from budget to mid range available to choose from.