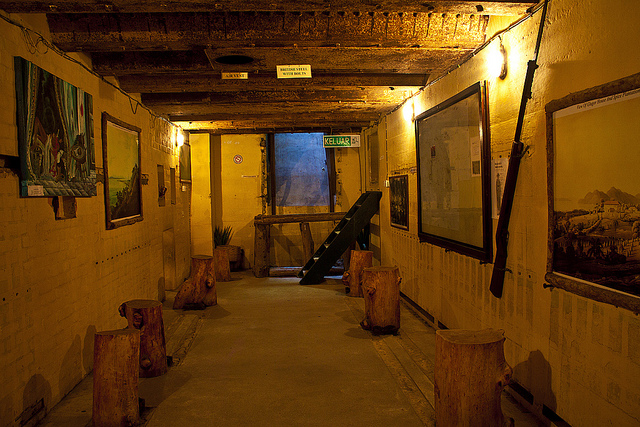 The Penang War Museum served as a memorial of the Japanese Occupation during World War II. It was initially built in the 1930s as a fort by the British to defend the island from a sea invasion.
The museum showcases to visitors war relics from World War II. Visitors can head down to the different underground chambers built to shield the fort from enemy bombardment. Visitors will come across a firing bay, underground bunker, military offices, kitchen and an infirmary. Walking from chamber to chamber, visitors will be shown photographs from the days of war, hung along the walls of the corridors. There is also a well-preserved ammunition storage chamber, as well as an observation tower that served as a look-out point for enemy forces. Visitors will also get to visit pill boxes, from which soldiers hid and fire at approaching enemies, and see a replica of an artillery, as well as visit the army barracks that used to house British soldiers. Visitors will not get left behind in historical details as these facts are well described at the every section and display. If visitors feel a little chilly here, it may be due the fact that much cruelty has taken place here. During the Japanese Occupation, this was where prisoners of war were captured, interrogated, tortured and even killed, giving rise to ghastly tales and recognition by the National Geographic Channel as one of the 10 most haunted sites in Asia.
The Penang War Museum is definitely a must-visit to better understand and experience the historical details of Japanese Occupation of Penang during World War II.
Penang War Museum is located on the south-eastern side of Penang island, off Jalan Batu Maung.
Opening hour and entrance fee:
Penang War Museum opens daily from 9am to 7pm. Entry is RM 15 for Malaysian adults and visitors with permanent residence status or working permit, and RM 7.50 for children. For foreign visitors, the entrance fee is RM 30 for adults and RM 15 for children.