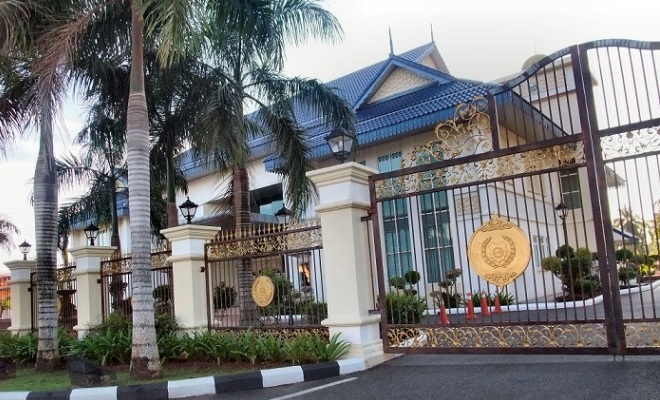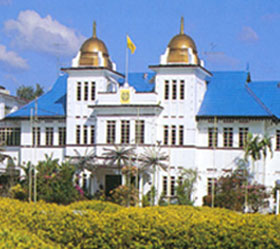 Located majestically in the heart of the royal town of Arau and 10 kilometers south of Kangar lays the Royal Palace of Perlis (aka Istana Arau). Built around 1905-1945 by the late Almarhum Tuanku Raja Syed Alwi Jaalulail this palace served as the official residence of the Perlis royal family until the 1970's.This palace also plays it part as the symbol of Perlis as a monarch state.
This palace is divided into four main components, each with carrying a specific purpose of its own. First and perhaps the most important aspect of the palace is the Balairong Seri. The Balairong Seri is where the royal ceremonies are carried out and among the ceremonies held is the coronation ceremony and also awards presenting ceremonies by on the royal highness of Perlis, Raja Perlis's birthday. Next is the Dewan Santapan or the banquet hall where most state functions are usually held. This palace also has two chambers built for specific purpose. First is the Bilik Biru or the Blue Chamber. This chamber is where the King meets state representative and also state advisors and they discuss state related issues. Next is the Bilik Hijau or the Green Chamber .This chamber is specially designated for foreign delegates, ambassadors and other royal guests where they discuss with the ruler national and more global related issues.
Now for the architecture aspect of this palace, this palace incorporates traditional Malay architecture with strong Islamic architecture influence, it would be a dream comes true to historians and architecture enthusiasts. The palace and its surrounding provide a peaceful, calm environment and sense of security. Music and arts cannot be separated from the monarch scene and same goes to the Royal Palace of Perlis. This palace acts and plays its part to preserve the unique heritage and culture of the state of Perlis. The Terinai is a classical form of Malay dance which is said to be founded from the palace itself and is still performed at the palace for cultural ceremonial occasions in Perlis and it is followed by the mesmeric beat of five traditional drums known as Gendang Terinai.
This palace which is now 106 years old and it still has stories to share to the public. This palace is more than just a residence it is the protector of the customs, culture and heritage of the Perlis royal family. The Royal Palace of Perlis should be preserved for the future generation so that they are given a chance to learn more about the royal family and the palace's contribution to the people of Perlis in general. Definitely a place worth to visit when you are having holiday in Perlis.