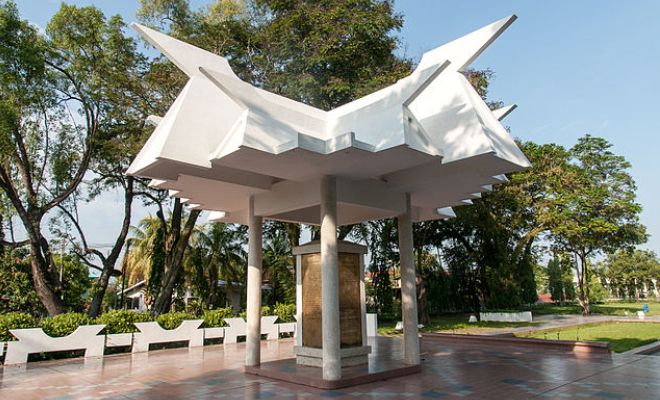 Every country and every state has its very own story. Some stories are well spread across the world; but some are hidden under the bushes, well protected by the local people (or even the local government) as a form of respect towards the histories. In Sabah, there are many untold stories you can unfold. If you are interested with these stories, you can consider starting off your exploration from the Petagas War Memorial located in Kota Kinabalu.
Not all stories are sweet and not all stories end with a happy ending. In the Petagas War Memorial, you will get to witness yourself the not-so-happy ending of the other side of Sabah's stories. Here contains the bittersweet memories of the local people, recording the sacrifices their warriors had contributed to the country; and in the same time, the memorial is also a place which reminds the local people on the hardships they had once gone through during the war periods. You will not only get to know more about the back stories of the town you are currently setting foot in, but you will also get to know about the reasons behind certain tales that are often untold to the world.
The Petagas War Memorial is a respectable place to visit because this is the place where the deaths are being remembered and their contributions and sacrifices to the people and the country being respected. The existence of this memorial itself is a respectable effort contributed by the local people, indirectly portraying their loyalty towards their motherland, as well as their appreciation towards the warriors who had lost their lives defending the land. Thus, besides of solely obtaining more knowledge through this memorial, you can also obtain the precious chance to experience the tears and sweats of the local people through the atmosphere and the surroundings built by them in the memorial.
You will also find the memorial very well-maintained, with a peaceful surrounding and a green environment. Once stepping into the place, you will definitely feel constant peace within yourself. Upon looking at the plaques standing firmly and proudly in the memorial, you will also find names of the deceased along with the contributions they had poured into the country. In order to know more, do not hesitate to ask the person in charge of the memorial, and he/she will be more than welcome to assist you with your doubts or problems. After visiting the memorial, it is guaranteed that you will obtain a totally new insight on the state of Sabah, along with the untold back stories of the warriors.
Recommended Area to Stay in Sabah:
Kota Kinabalu
From city's heritage exploration to islands escape, accommodation option in KK is countless.
Mount Kinabalu
For visitors looking to discover mother nature and access to the highest mountain in South East Asia.
Semporna
Gateway to the islands paradise (Mabul Island, Sipadan Island, Kapalai Island and more!).