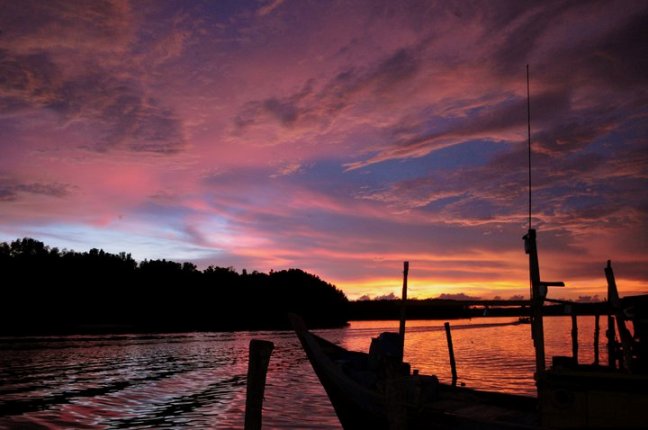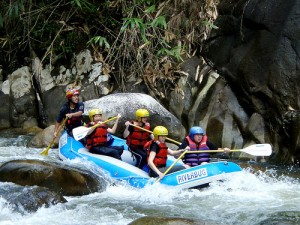 Some may like to walk through serene pathways and enjoy nature as it is, but for the ones that prefer to have things done in a much wilder and adventurous manner, then Kampar River is the next pit stop for visitors of this kind! Acknowledged to be a trendy white water rafting destination in Gopeng in the state of Perak, Kampar River is roughly 20 minutes away from Gua Tempurung and less than 30 kilometres from the town of Ipoh.
An advantage about the Kampar River white water rafting activity is the fact that even the ones that are unable to swim could join this adventurous sport! Nobody gets left out here, seeing that the rapids are graded, and so even beginners would be able to start off from Kampar River and soon develop an interest in white water rafting!
This long river that stretches to about 17 kilometres has a total of 14 rapids and is graded from class I-III. Once visitors are on the river, they will feel the adrenaline spirit rushing through their bloodstream and that is when they are ready to tackle the strong flows of the river! Of course, besides trying to be in flow with the streams, visitors would also get a chance to view the lush greens surrounding them as they travel. Is this not an exciting way to enjoy the beauty of nature?
Of course, if visitors want to have a white water rafting experience, they will have to book the tour package in advance. There are a few packages, ranging from half day, full day, or even overnight ones for travellers with a pumped up adrenaline rush! As for the best period of time to do this activity, it would be between the months of July and September; water levels are safer as there is not much rain during that period of time.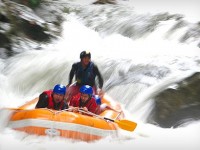 Once again, not to worry for beginners or first-timers, as there will be a safety briefing as part of the standard procedure. In the safety briefing, visitors will be taught about the commands, paddling methods, drills, actions and lastly… to not panic! Visitors would be constantly reminded to do one thing; have fun!
After the briefing process, visitors are ready to rumble! They will go through the adventure and enjoy sights of nature, clear water splashing their faces, a good tan and something to brag about when they are done having a ball of fun!
Recommended Area to Stay in Perak:
Pulau Pangkor
The perfect place for seeking true island escape, with just a short ferry ride from Lumut.
Ipoh City
A gateway to all the city attractions with diversified of accommodation options available to choose from.
Taiping
A heritage town rich in tin mining history and serene atmosphere.