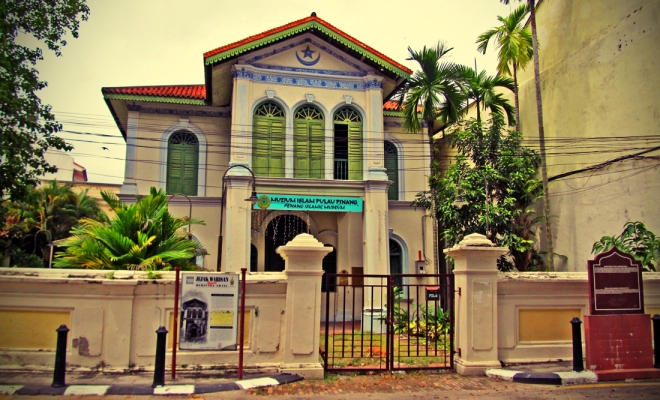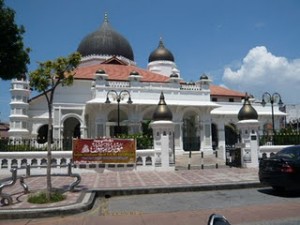 The Penang Islamic Museum was once hailed as the Syed Alatas Mansion and belonged to an Acehnese merchant under the Arab descent, namely Syed Mohamad Alatas. He resided in this house with his wife, a royalty under the Malay descent, and in the year 1993, the government decided to reinstall this two-storey bungalow under a funded pilot manifestation with some French technical assistance.
In past history, also dubbed the 'Rumah Besar', or rather, The Grand House, Syed Alatas had always been the centre of attention for celebrations, like the annual Boria, a customary type of vocal entertainment that takes place during the Awal Muharram.
Before the house has been restored and after the residency of Syed Alatas, it was a site for collection of second-hand materials like scrap metals and used containers. It was lodged by a group of Indian Chettiars, part of Penang's active recycling industry. During that period of time, a coffee shop and 2nd-hand timber dealers were also sub-tenants to this house. Despite the many occasions that have occurred in this house, the structure was maintained with minimal alterations only with the sole purpose of preserving the framework.
Today, it has been converted into an Islamic museum that displays the olden times and legacy of Penang's Muslim community. This two-storey bungalow exhibits the various artifacts in relation to the Islam community and the rich culture of Malays.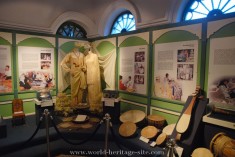 The Penang Islamic Museum also shows evidence of a few of the mosque fittings that are predicted to be over a hundred years old, some 17th century ceramic tiles, grinding stones, drinking vessels and as well as Arabic calligraphy.
This Islamic Museum would be an eye-opener for visitors to Penang that wish to know more about the Islamic customs and Malay society. Although a minimal admission fee is charged for adult and children, it is never too costly to gain vast knowledge, especially when it involves a cultural factor. Also, this museum opens at as early as 9.30 am, and closes at 6 pm, with the exception of it being closed on Tuesdays.
Recommended Area to Stay in Penang:
Batu Ferringhi
Line up of beach front resorts from budget to luxury along Batu Ferringhi Beach.
Georgetown
For those looking for boutique style hotels and countless of cosy backpacker hostels.
Gurney Drive
A series of luxury hotels with fantastic sea view. Eateries and night entertainments are within walking distance.
Bayan Lepas / Airport
For business travelers.