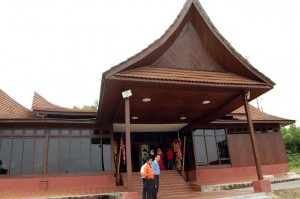 Malaysia is no doubt a country filled with rich historical memories and cultural background. There is so much to discover and explore about Malaysia that one would need to be completely immersed in the Malaysian culture to learn entirely about the uniqueness of Malaysia as a developing country. However, putting all these aside, Malaysia is still a unique country on its own because of the resources the country is able to produce, despite being a developing country. Apart from solely visiting historical landmarks and admiring the amazing surroundings in Malaysia, another fantastic experience you can gain is through observing the special materials produced by Malaysians by visiting the unique crystal village of Rembau Crystal in Negeri Sembilan.
Rembau Crystal is a unique crystal village – in fact, the largest crystal village in Malaysia – which will amaze you with the handmade crystal materials produced by Malaysians. Not only that the materials and items exhibit in Rembau Crystal will blow you away, but in the same time, you will also find yourself being stunned by the architectural designs that allow Rembau Crystal to stand tall amongst the other buildings around it. The architectural designs used in building Rembau Crystal is stemmed from the traditional architectural designs of the Minangkabau culture. One step into Rembau Crystal will definitely allow you to experience both the uniqueness of Rembau Crystal as Malaysia's largest crystal village, and also the fascinating Minangkabau culture implemented in the building's design – all in one place.
Perhaps the most fantastic reason to visit Rembau Crystal in Negeri Sembilan is not only the unique designs used by the building, but also the products showcase in the Rembau Crystal. Different kinds of crystal-made materials can be found in Rembau Crystal, including crystal-made house decorations (table lamps, accessories, dining ware). Through the details of these crystal-made materials, you will be able to witness the effort being poured by the Malaysian workers in creating these materials, and this is exactly the reason that makes these crystal-made materials unique, valuable, and meaningful.
Besides, you will also have the chance to learn the art of crystal handicraft by observing the whole process of crystal-made materials production in Rembau Crystal. In fact, if you intend to learn the skill of crystal-making, this would be the perfect chance for you to learn and in the same time, you might be able to sell the crystal-made materials you made in Rembau Crystal. In short, visiting Rembau Crystal might help you greatly in enhancing your passion in crystal-making and in the same time, helping you to gain more recognition and credibility from the different people from all around your world witnessing your own crystal-made productions.
Recommended Area to Stay in Negeri Sembilan
Port Dickson
From budget inns to all-inclusive resorts and private bungalows, PD is for the beach lovers.
Seremban Town
Wide range of accommodations to suit every budget in this serene and quite township.