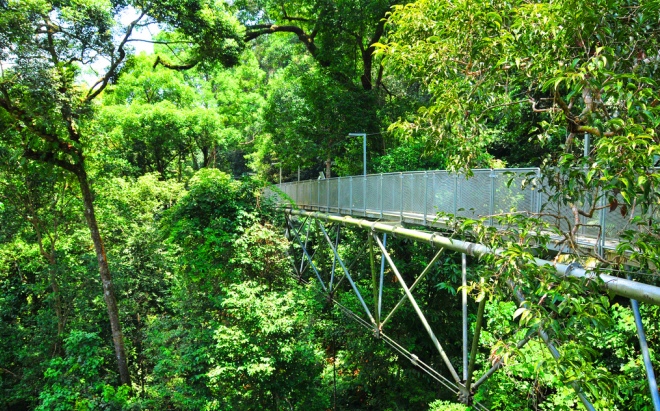 Sedim River Recreation Park is Kedah's top-draw ecotourism destination. Spanning an area of ​​about 37 thousand hectares of forest, there is plenty to do whether visitors are seeking fast-paced adventure or relaxing enjoyment.
The park is famous for white-water rafting and is often visited for team-building or group activities. Rafting operators provide the equipment for a fee and visitors will then be set free onto a path of 24 fast-flowing, challenging rapids. Visitors seeking water-based activities away from the adrenaline-pumping rafting can opt for kayaking along slower waters. Away from water-based activities, the lush greenery invites visitors to take a stroll in the forest and immerse in its soothing calm. Built through the forest is a 925-metre canopy walkway, the longest in the world, that allows visitors to walk through the forest safely but still within a close distance of nature. The canopy walk, at 50 meters above ground, provides a breathtaking view of the forest, particularly when approaching the river.The height also provides an eye-level view of life at the tree tops and is a good spot for bird watching. Those who want more out of nature can arrange trekking tours to nearby mountains, namely Bintang Utara Mountain, Bintang Mountain and Inas Mountain. Otherwise, being within the confines of nature itself would be a good enough reason to visit this place.
The park is a wonderful, thrilling yet peaceful escape to nature that makes it one of the must-visits in Kedah .
Sedim River Recreation Park is well-tucked away from town, requiring about an hour's drive from Penang .
GPS coordinate for Sedim River Recreation Park – 5.41321,100.781005
Opening hour and entrance fee:
Sedim River Recreation Park opens from 8.30am until 5.30pm every day. Entry is free but admission to the canopy walk is RM 10 for adults and RM 6 for children.
Recommended Area to Stay in Kedah:
Pulau Langkawi
The best island destination for seeking true escape complemented by a range of activities.
Alor Setar
A gateway to all the city attractions with accommodation from budget to mid range available to choose from.