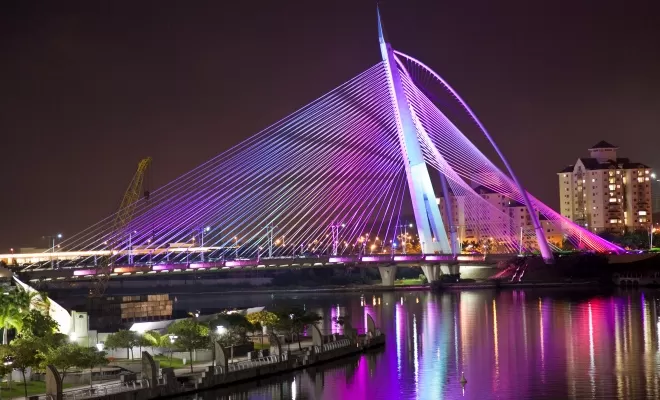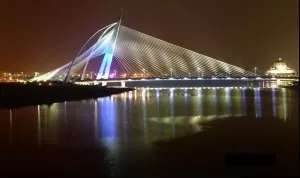 In Malaysia, there are many trademarks and landmarks in the country that can leave deep and meaningful memories in individuals who had visited them. In the many states of Malaysia, there are different landmarks to be explored in every single state in Malaysia that will definitely transmit a whole new message to the individuals visiting the states. If you are interested to know more about the unique landmarks in Putrajaya, you must not miss out the famous Seri Wawasan Bridge, which is one of the trademarks in Putrajaya interpreting the uniqueness of the place.
One of the unique points of the Seri Wawasan Bridge is the fact that the bridge is designed to look like a cable-stayed bridge, allowing it to stand out from the other bridges as the building designs look different with the common bridges we can find anywhere else in Malaysia and even in your own home country. Due to the unique building design of the Seri Wawasan Bridge, it is also recommended for you to bring along your camera as well as your friends and your families to record and capture the meaningful moments between you and your love ones along with the firm and special Seri Wawasan Bridge.
Besides, if you are interested with the whole spectacular view of the landmarks in Putrajaya, you can also grab a magnificent view of the newly completed Putra Mosque on the Seri Wawasan Bridge.
Apart from that, the Seri Wawasan Bridge is also a distinctive feature of Putrajaya which plays the important role of connecting the different precincts of Putrajaya. Thus, if you are to reach Putrajaya, you will definitely pass by the bridge. Instead of just taking memorable pictures of the Seri Wawasan Bridge with your love ones and your friends, the pictures you taken will also proved that you had visited one of the most unique bridges in Malaysia.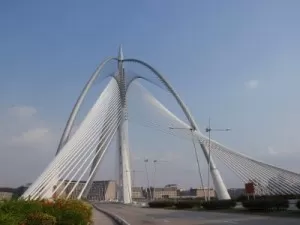 One of the most important features of the Seri Wawasan Bridge is that the bridge is build with the latest technology. The outcome of the effort by the local people is proven successful. Upon visiting the Seri Wawasan Bridge, you will definitely be able to experience the passion of the local people in building this magnificent bridge, and in the same time, you would also be able to witness the latest technology being invested by the government of Malaysia in the bridge in order to allow the visitors to enjoy their vacation in Malaysia.