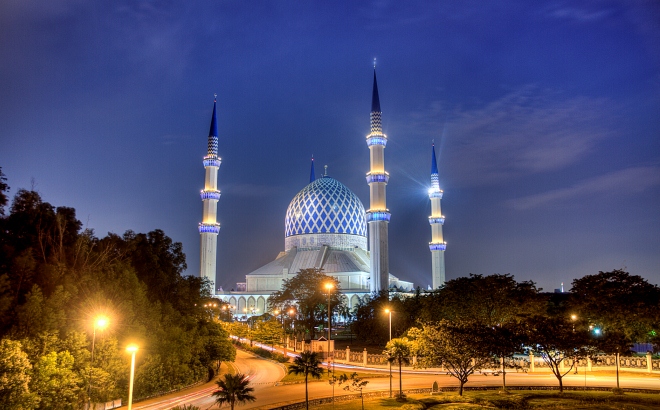 The Sultan Salahuddin Abdul Aziz Shah Mosque in Shah Alam, prominently known as the Blue Mosque, is the state mosque of Selangor. Completed in 1988, it remains the largest mosque in Malaysia and the second biggest in South East Asia, accommodating up to 24,000 worshippers at a time.
The mosque's dome is the most distinctive feature, large in blue and silver colour and measuring 51.2 meters in diameter and penetrates to a height of 106.7 metres. Surrounding the grand dome are 4 minarets, each at a height of 142.3 metres, some of the world's tallest. Upon a closer look, visitors will find the intricate design within the halls to be deeply rooted in Islamic origins. On some parts of the mosque's wall and inner curve of the dome is Arabic calligraphy, made by the famed Sheikh Abdel Moneim Mohamed Ali El Shakawi. The inner part of the dome hangs a beautiful chandelier that illuminates the prayer hall, while hallways are tiled with marble. There are several etiquettes that visitors must observe within the mosque. Men and women are to be fully clothed while women are to wear head-scarves. Visitors are to communicate softly so as to not disturb worshippers from prayers.
The Blue Mosque is a work of wonder and the grandeur must not be missed by visitors to Malaysia.
How to get there
The Blue Mosque is located in Shah Alam, at the end of Persiaran Masjid, adjacent to the roundabout of Setia Jasa. It is about 40 minutes drive from Kuala Lumpur city centre. The mosque can be easily accessible via taxi.
Opening hour and entrance fee
There is no entrance fee required to visit the Shah Alam Blue Mosque.
Visiting hour for guided tour in Shah Alam Blue Mosque:
Monday to Sunday (morning session) – 9am to 1pm and 2pm to 6.30pm
Friday (morning session) – 9am to 12pm
Friday (afternoon session) – 3pm to 6.30pm
Recommended Area to Stay in Selangor
Sunway
Gateway to theme park, shopping malls, entertainments and eateries.
Bandar Utama/Kota Damansara
From budget inns to mid range and luxury hotel, perfect for shoppers and leisure travelers.
Batu Caves
Range of budget hotels and provide easy access to Batu Caves, Bukit Tinggi and Genting Highlands.
Sepang / KLIA Airport
Perfect for visitors on transit.